By Emmerson Campbell
Forgotten Youth Foundation (FYF) gym mates Jermaine King and CABOFE flyweight champion Dexter 'The Kid' Marques are both brimming with confidence ahead of their respective bouts this Friday at the Cliff Anderson Sports Hall.
At the staging of the 22nd edition of the Guyana Fight Night Pro Am card, Marques will match gloves with Barbadian Ricardo 'The Brown Bomber' Blackman in an eight-round bantamweight bout while King will take on national welterweight champion Iwan 'Pure Gold' Azore in a six-round catch weight contest.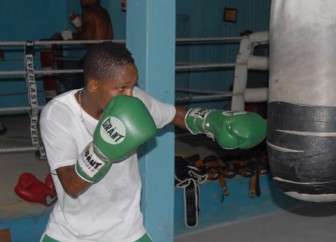 During their training session yesterday at the FYF gym, Stabroek Sport caught up with the two boxers who spoke about their preparation and their predictions for their respective encounters.
King who has a professional record that reads five losses and one draw said that despite taking the fight on short notice, he is confident of defeating the more experienced Azore who has a record of 14 wins, five losses and three draws.
"I took the fight on a short notice but I have been training for a while now. I don't back down from any fight, it's going to be a war with me and Azore. I'm going for the kill and this time hopefully I will get my first victory," said King.
King added: "Im confident of a victory I've never sparred with Azore or nothing but as you can see his record he don't knockout nobody and the real people who he fight knocked him out so I'm just looking forward to a victory I have been training hard but I'm not going for the knockout but if it comes I will go for it".
King revealed that he was training twice per day when he got notice of the fight two weeks ago. He said he has a plan A and a plan B but stopped short of revealing his plans for the fight. However, he  did say he plans on using his superior reach to his advantage. Meanwhile Marques  stated that once he is successful in executing his plans, the victory will be his.
"Blackman claims he is the best bantamweight in Barbados and I always want to fight the best, but I know myself and once I execute my plans Blackman will go back to Barbados with another loss," said Marques.
The flyweight CABOFE champion added: "I have been training for two months now for a fight and so far I did some sparring with Jermaine and Dellon Allicock – they are my main sparring partners, we sparred like 40 rounds so far and I'm in tip top shape and just ready for Friday night. I'm going to teach Blackman a boxing lesson," Marques boasted.
Marques who won his title in February by unanimously defeating journeyman Orlan 'Pocket Rocket' Rogers, has a record of nine wins and two losses. 'The Kid' will be using the fight as a warm-up for the lucrative WBC World Cup which boxes off in August.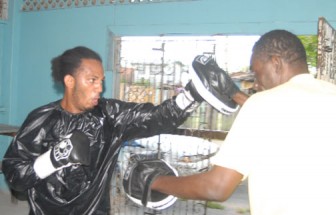 Blackman will be looking to return to his winning ways and snap his seven-fight losing streak. 'The Brown Bomber's' abysmal record reads five wins and 12 losses.
Meanwhile, the professional segment of the card which will be headlined by Mandessa Moses and Trinidadian Tiana Sosa in a six-round junior lightweight affair will also include WBC CABOFE bantamweight champion US-based Guyanese Elton 'Coolie Bully' Dharry going up against Charlton Skeete over six rounds.
The 'Coolie Bully' will also be using his fight as a warm-up for the lucrative WBC World Cup tournament.
Debutants David Thomas and Anson Green will be eyeing their first professional victory when they face off in a four-round junior welterweight match-up.
The amateur segment will also include London Olympics hopeful Bert Braithwaite going up against Kishon Simon in a junior welterweight encounter while Travis Hubbard will match gloves with Diwani Lampkin in a 105 to 109 pounds contest.
Ishmael McLennan will take on Quincy Boyce (125 to 132 pounds) and Jamal Eastman will face Kurt Allicock (75 to 79 pounds).
The monthly card is an initiative of the GBBC in collaboration with the Sports Ministry and National Communications Network (NCN).
Sponsors of the event include Digicel, Giftland Office Max, Courts, Banks DIH Limited and ANSA McAl.
Admission is $1,000 while children will be asked to pay half price.  Bell time is 20:00 hrs.
Around the Web