KOLKATA, India,  CMC – Left-handed West Indies stroke-maker Darren Bravo may take no part in the lucrative Indian Premier League when the current Australia series ends in the Caribbean.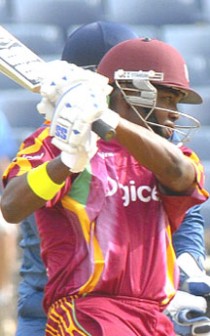 The 23-year-old signed for the Deccan Chargers earlier this year but opted to play the full Australia series which ends later this week
And with the Windies set to leave the Caribbean for the tour of England next week, Deccan Chargers team manager Paul Skinner said Bravo's window of opportunity may be too limited to allow any real time with the Chargers.
"Darren will only be available for two-three games even if he comes to India at the end of the Australia Test series because the West Indies will be going to England in early May," Skinner, a Barbadian, told Times of India.
"It's possible that he may not make the trip. A decision will be taken shortly after consultation between the franchise and WICB."
Bravo was one of several West Indies players to sign with IPL franchises for the current season but the only one to stay on for the three-Test series.
Darren's older brother Dwayne Bravo,  all-rounder Marlon Samuels and Kieron Pollard all played in the limited over phase of the Australia series before joining their IPL franchises.
Dwayne Bravo represents Chennai Super Kings while Samuels turns out for Warriors and Pollard, the Mumbai Indians.
Former West Indies captain Chris Gayle, seeking to end his year-long impasse with the West Indies Cricket Board, also indicated he would play the full IPL for Royal Challengers Bangalore before making himself available for the tour of England.
The IPL runs until May 27 while the Windies tour of England spans May 5 to June 24.
Around the Web