By Emmerson Campbell
Gatorade will be the official sports drink of the Guyana Amateur Boxing Association (GABA) under-16 competition which will box off in May, August and December.
The event will be dubbed GABA/Gatorade under-16 Competition.
This collaboration between Gatorade's distributor Demerara Distillers Limited (DDL) and GABA was made official yesterday in the presence of media operatives in the boardroom of Distribution Services Limited (DSL) in Ruimveldt when Marketing Director of DDL Sharda Veeren-Chand presented a sponsorship cheque to president of GABA Steve Ninvalle.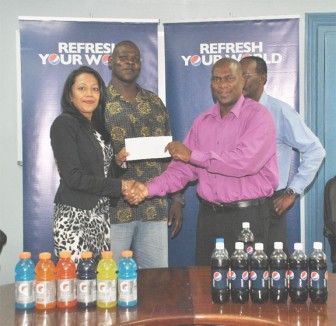 From a prepared speech, Chand noted that her company is pleased to be partnering with GABA as a means of giving back to the community. She also mentioned that the programme will also target the fan base that supports Gatorade.
"For us at DDL under the Pepsi and Gatorade brands, we are very pleased to be associated GABA on this developmental programme, it involves both cash and kind, cash in terms of taking some of the responsibility for the expenses of the events as well as refreshments for the young boxers," said Chand
She added: "We are always looking at opportunities to give back to our communities that we serve and what we like most about this programme is that it is targeting our core fan bases that support Gatorade and Pepsi, the young people and we are really glad for an opportunity to give back."
Chand disclosed that this is the first time that DDL has sponsored amateur boxing and she is confident that their partnership with GABA will help with the sport's development.
Said Chand: "We are working with several other bodies on developmental programmes for youths such as this but this is our first venture into amateur boxing. We are very confident that this programme will give the young boxers the exposure and the development they need to take them forward and I believe that is what attracted us to the programme in the first place."
Chand said that as a country when our athletes make it onto the world scene such as the Olympics we feel proud and excited but accomplishments like those would not happen unless corporate Guyana  invests  in them in the developmental stages and programmes such as the under-16 competition will lay the foundation to make Guyana proud in the future.
In closing DDL's Marketing Director revealed that the partnership marks the beginning of a new relationship with her company and GABA and  she is looking forward to seeing young stars emerging from the competitions. Ninvalle thanked DDL and praised their swift response to GABA's request for sponsorship.
"We are extremely overwhelmed that DDL has come on board, in the recent past we have noted that especially for amateur boxing we have gone out and bent backwards to secure sponsorship but we did not have to do that with DDL, after speaking with Mrs. Chand within a week we had gotten a response and we were called in to have a meeting," said Ninvalle.
The GABA boss stated that the competitions will be monitored by Cuban coach Francisco Hernandez Roldan who is in Guyana on a two-year stint and is a way of harnessing and spotting talent for the future.
"It's basically an under-16 programme. We have our Cuban coach here (Francisco Hernandez Roldan) to guide us and the fact is if you don't have a good nursery then you cannot have good seniors so it is a good step, it's a step that we should have taken quite a while ago but as we say better late than never," said Ninvalle.
He also mentioned that GABA plans to stage the August competition in Rose Hall as a form of decentralizing boxing in Guyana because outside of Georgetown, the county of Berbice has the most gyms and boxers.
Around the Web