By Emmerson Campbell
Charlton Skeete will enter Friday night's matchup with CABOFE bantamweight champion Elton 'Coolie Bully' Dharry as the heavy underdog.
However, Skeete plans to create a major upset and a name for himself by knocking out the US-based Guyanese when the pair matches gloves in their six-round affair at the Cliff Anderson Sports Hall when the Guyana Boxing Board of Control (GBBC) stages its 22nd edition of the Guyana Fight Night Pro Am initiative.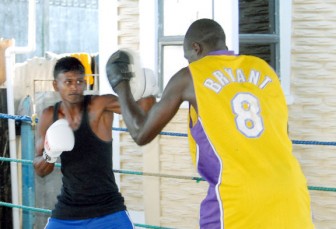 Stabroek Sport visited Skeete at his training base yesterday at the Harpy Eagles gym and during an interview, the confident 27-year-old spoke on his preparation and his plans for the biggest fight of his career.
"I am training a month now for this fight,  morning and afternoons  and I know he is the champion and I am the underdog I have to make a statement when I go in that ring on Friday and make my name, that is what I am looking to do," Skeete said.
Skeete, who is a pork-knocker, said he has his eyes on the gold (the bantamweight title) and by winning he is assured of a title crack down the road.
The Harpy Eagles product who has sparred many rounds with his coach James Walcott and reigning junior sportsman-of-the-year Imran 'Magic' Khan said he plans on going for the knockout but stopped short of predicting a specific round.
Said Skeete: "It cannot go to any decision with him, cause he is already the champion. I'm looking to drop him.  I will be looking for the knockout definitely because he is the champion, it is hard to get a decision against a champion I don't know which round but whenever it comes I will go for it."
Skeete has a record of three losses and a solitary win while the 'Coolie Bully' has nine wins, five losses and a draw.
Will Skeete improve his winning record by creating an upset or will he be bullied by Dharry? The answer will be known on Friday night.
Meanwhile the professional segment of the card will now be headlined by Venezuelan Ana Maria Lozano and Mandessa Moses in a six-round featherweight contest.
Moses was originally scheduled to face Trinidadian Tiana Sosa but that fight has since been cancelled.
Despite the change and unfamiliarity of her new opponent, Moses' trainer Lennox Daniels is confident that his charge will be the victor on Friday night.
"Our preparation is good – she is in full condition. We were working on strengthening her jab and other areas, we really don't know nothing about Lozano  but we are prepared for orthodox and south paw. I'm confident and I am very impressed with Moses and her preparation," said Daniels
Daniels said there is no specific game plan heading into the fight with Lozano but if the knockout comes Moses will go for it.
The undercard will feature Jermaine King coming up against Trinidad and Tobago-based Guyanese Iwan 'Pure Gold Azore in a six-round catch-weight fight, while CABOFE flyweight champion Dexter 'The Kid' Marques will match gloves with Barbadian Ricardo 'The Brown Bomber' in an eight round bantamweight contest.
Debutants David Thomas and Anson Green will be eyeing their first professional victory when they face off in a four-round junior welterweight match-up.
The amateur segment will also include London Olympics hopeful Bert Braithwaite going up against Kishon Simon in a junior welterweight encounter while Travis Hubbard will match gloves with Diwani Lampkin in a 105 to 109 pounds contest.
Ishmael McLennan will take on Quincy Boyce (125 to 132 pounds) and Jamal Eastman will face Kurt Allicock (75 to 79 pounds).
The monthly card is an initiative of the GBBC in collaboration with the Sports Ministry and National Communications Network (NCN).
Sponsors of the event include Digicel, Giftland Office Max, Courts, Banks DIH Limited and ANSA McAl.
Around the Web