Floyd Mayweather Jr., who, if you believe him, hasn't stretched before lifting, running or training for the entirety of his 16-year professional career, is now doing bikram yoga.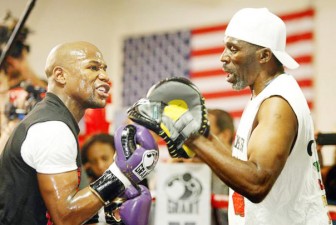 As the featured attraction of the circus that descended Tuesday on Mayweather Boxing Gym just southwest of the Strip, Mayweather (42-0) performed his media duties with a smile and went several rounds with the packs of reporters there to preview his May 5 fight against Miguel Cotto (37-2) at the MGM Grand Garden Arena.
Before going through a workout, the topics covered the gamut, from his impending incarceration and potential fight with Manny Pacquiao (no news on that front) to the Cotto fight itself. That includes Mayweather's new yoga training, something he said he's been interested in for the last five years but only recently started doing.
"I think I can push myself and perform a lot better with yoga," Mayweather said.
The decision could have at least something to do with finding a way to battle age. Mayweather, 35, said he's never pulled a muscle in all of his non-stretching years, a claim that doesn't pass the smell test. Bikram yoga is performed in a room heated to about 105 degrees, which allows for deep muscle relaxation. Mayweather said he even has his yoga trainers occasionally come to his house to work on more stretching.
All of that, he believes, is going to help give him the advantage over 31-year-old Cotto, a bigger fighter that Mayweather said he sees as being undefeated.
Cotto suffered his first loss in 2008 on an 11th-round TKO to Antonio Margarito. The fight has since come under suspicion because Margarito's corner was caught in its next fight trying to use illegal hand wraps, and many believe they did the same thing against Cotto. Either way, Cotto won the rematch in December with a TKO.
In between those was Cotto's 12th-round TKO loss to Pacquiao. Mayweather dismisses that loss because while the bout was set at welterweight (147 pounds), the camps agreed to a catchall weight of 145 to accommodate Pacquiao's smaller physique.
Mayweather said there would be no such stipulations for his 154-pound fight, which will be for Cotto's WBA (Super) Light Middleweight title.
"I believe in being on an even playing field," Mayweather said.
Since he's the best fighter, Mayweather said, he should be the one to make the move, in his case up, in weight. Mayweather's only other fight above 150 pounds was exactly five years previous, a May 5th battle at the MGM Grand Garden Arena against Oscar De La Hoya. On that night, Mayweather weighed about 10 pounds less than then-34-year-old De La Hoya but he won a split decision that set pay-per-view records.
The only fight in boxing that could break that record is Mayweather-Pacquiao, which is no closer to happening as both fighters prepare for upcoming bouts.
On Tuesday, Mayweather said the only thing holding it up was random blood and urine tests, but previously both camps have said the negotiations had moved past that to the split of pay-per-view revenue.
"There's so many different excuses," Mayweather said.
Put simply, nothing to see here, folks.
Steve Marcus
Rapper Curtis "50 Cent" Jackson attends Floyd Mayweather Jr.'s media workout Tuesday, April 24, 2012. Mayweather will challenge Miguel Cotto of Puerto Rico for Cotto's WBA junior middleweight title at the MGM Grand Garden Arena on May 5.
Mayweather talked to reporters for about an hour before beginning his nearly two-hour workout, which consisted of glove work in the ring, heavy bag, speed bag and some strength training. Close friend 50 Cent showed up just in time for the workout and made sure the crowd 1. was entertained and 2. knew just how unstoppable Mayweather would be on fight night. The mood in the gym was very jovial, even when it came to Mayweather's legal troubles. On June 1 he's scheduled to begin an 87-day sentence as part of a plea deal stemming from a domestic violence charge involving the mother of his three children.
"I try to be positive, keep my fingers crossed and hope for the best," Mayweather said, adding that he's not worried about what's out of his control.
Mayweather had to get a judge to postpone his sentence just to keep his May 5 date with the MGM Grand. And now that fight week is approaching, the quest for win No. 43, at any cost, is what's driving Mayweather.
"This fight won't go the distance," Mayweather said. "He's coming in for the kill and I'm going in there for the kill. This is boxing, this is the hurt business, it's about excitement and that's what I'm here to do."
He's stretched out and ready to go. (Las Vegas Sun)
Around the Web