By Iva Wharton
Construction of the 25 metre warm-pool at the National Aquatic Centre, Pattensen, and East Coast Demerara is dependent on whether finances are approved in the National Assembly, Director of Sports Neil Kumar said yesterday.
Speaking at a press conference at Main Street yesterday morning Kumar told reporters: "The consultants are already here to do their survey and we are working with them."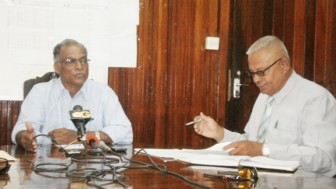 He, however, said he could not give a date when construction will start, but offered…. "The trouble going on in parliament is not easy, is very sad."
Kumar said that the cost of constructing the warm-up pool is pegged at G$75 million, which could be increased given the fact that they are looking to have a state-of-the-art facility built.
Efforts, he said, are also being made to have additional infrastructure work done to the Aquatic Centre such as the installation of lights which he said will facilitate night meets at the centre.
Abraham Watson, Administrator for the National Aquatic Centre said that he could not give a cost for the installation of the lights as the consultants were in the process of identifying the disciplines and where the lights will be installed.
Kumar also took the opportunity to clear the air on the use of swimming pools by the various communities stating that there was no attempt by the ministry to prevent residents from accessing community pools.
"Minister Anthony has insisted that we go to Linden, because we have also made the Linden pools available to the public.
He added that the ministry was moving to have pools on the sugar estates open so that swimmers can have access to them.
"Also, we will be taking the coaches outside of Georgetown to have training so that we could develop more interest, develop better attitudes towards sports and develop their interest in swimming in particular."
According to the Director of Sport, the Colgrain Swimming Pool is open to the public and is currently being used by a number of clubs, associations and even individuals.
However only properly trained swimmers selected by the Japanese coach will be allowed to use the Aquatic Centre.
"Because the pool is very deep and you have to be very careful," Kumar explained adding that there are no life guards at the Aquatic Centre unlike the Colgrain Pool, which has life guards stationed there.
Asked about the Castellani Swimming Pool, Kumar said that that pool falls under the Office of the President, but said it is available to the Guyana Swimming Association.
Around the Web