By Emmerson Campbell
CABOFE champions, flyweight Dexter 'The Kid' Marques and bantamweight Elton 'Coolie Bully' Dharry will look to secure impressive victories over their respective opponents tonight at the Cliff Anderson Sports Hall at the staging of the 22nd edition of the Guyana Fight Night Pro Am card.
Marques will match gloves with Barbadian Ricardo 'The Brown Bomber' Blackman over eight rounds while the US- based Dharry will take on Charlton Skeete in  a six-round affair.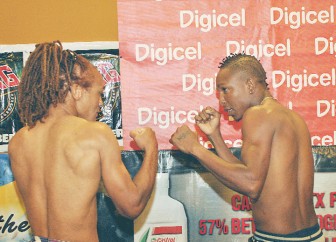 Both CABOFE champions will be using their respective bouts as warm-ups for the lucrative WBC World Cup tournament which boxes off in August.
Marques and Dharry are both brimming with confidence and predicted convincing victories while throwing verbal jabs at their opponents at the customary press briefing at the National Communications Network (NCN) studios.
Said Marques: "I wanted to fight Blackman a long time ago – he said that he is the best and I always like to fight the best, but Blackman will get a boxing lesson of his life, I will teach him a boxing lesson and send him back to Barbados."
Afterwards  Skeete said he does not like to be bullied and will bully the 'Coolie Bully', Dharry shot back that he will do his talking in the ring.
"These guys always use their mouths a lot, I will do my talking with my fists in the ring, and it is not a matter of me winning in Guyana no more – I have never lost here and I plan on keeping it that way. I  will be going out there to finish it early," Dharry boasted.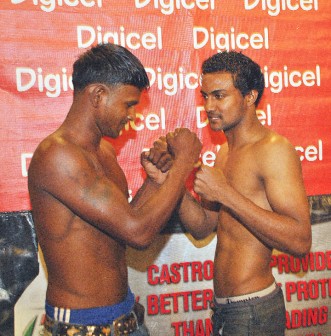 Card headliner Mandessa Moses also threw verbal jabs at her opponent Venezuelan Ana Maria Lozano.
The usually irresolute Moses who will face Lozano in a six-round featherweight contest said  that she plans on giving the Venezuelan who is making her debut "the beating of her life".
"I don't know much about this girl and I don't really care about her. All I care about is giving her the beating of her life," Moses hissed venomously.
Moses has a professional record of seven wins and one loss while Lozano who is a former featherweight amateur champion has an amateur record of 20 wins in 30 bouts.
The five-fight professional segment of the card will also feature Jermaine King matching gloves with national welterweight champion Iwan 'Pure Gold' Azore in a six-round catch weight fight.
Debutants David Thomas and Anson Green will be eyeing their first professional victory when they face off in a four-round junior welterweight match-up.
The amateur segment will also include London Olympics hopeful Bert Braithwaite going up against Kishon Simon in a junior welterweight encounter while Travis Hubbard will match gloves with Diwani Lampkin in a 105 to 109 pounds contest.
Ishmael McLennan will take on Quincy Boyce (125 to 132 pounds) and Jamal Eastman will face Kurt Allicock (75 to 79 pounds).
The monthly card is an initiative of the GBBC in collaboration with the Sports Ministry and National Communications Network (NCN).
Sponsors of the event include Digicel, Giftland Office Max, Courts, Banks DIH Limited and ANSA McAl.
Admission is $1,000 while children will be asked to pay half price.  Bell time is 20:00 hrs.
Around the Web