The Guyana Amateur Boxing Association (GABA) and Seon Bristol through his Briso Promotions will team up to stage an inaugural 12-fight open air boxing card in Linden at the Mackenzie Bus Park on April 30.
This collaborative venture was made public yesterday by Bristol and GABA president Steve Ninvalle in the presence of media operatives in the boardroom of the Princess Hotel at  Providence, East Bank Demerara.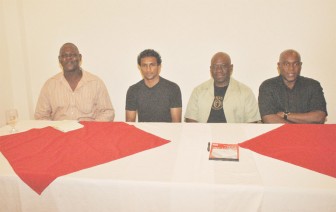 According to Ninvalle, the event which will coincide with the Linden Town Week festivities is a form of resuscitating amateur boxing in the mining town and to also decentralize the sport.
"We chose Linden because Linden has not seen amateur boxing for quite some time. The sport has been quite dormant in that part and we just want to let Linden know that we have not forgotten them. It is also part of our decentralizing plan because I know we need to create more awareness for amateur boxing outside of the city," said Ninvalle.
The GABA boss who has now collaborated with Bristol for the first time thanked the promoter who he said has always been supportive of amateur boxing and the sport of boxing as a whole.
"This is the first of such ventures between the two of us but of course Mr. Bristol has always been supportive of amateur boxing and I can remember when our executive was much younger Mr. Bristol through his promotion group was able to pay our yearly subscription to AIBA. We thank him very much for that and we thank him for always supporting us."
Ninvalle who thanked Minister of Sport Dr. Frank Anthony for presenting GABA with a ring that can be transported around the country also intimated that as the event grows, he hopes to invite boxers from other Caribbean nations to be part of the card.
In brief remarks, Bristol said he is pleased to be of assistance to the sport of amateur boxing as his timely assistance also coincides with this being an Olympic year.  He also thanked former and active boxers who also contributed in some way to the event.
Bristol added, "let me thank the media for being here today in regards to this joint venture."
He said that former and present boxers such as CABOFE bantamweight champion Elton Dharry who was at the media briefing, Kenny Bristol, Lennox Blackmore, Dillon Carew, Raul Frank, Randy Tappin, Brian Muller Winfield Braithwaite are all part of the venture.
Bristol stated that he hopes their support will continue in any form as his main objective is to make good amateur boxers become great professionals and subsequently become world champions.
Technical Director of GABA Terrence Poole said that the sport of amateur boxing needs all the assistance it can get and praised the shot in the arm by Bristol.
Poole disclosed that boxers from Linden, Georgetown, the East Coast and Essequibo will make up the card.
GABA's Technical Director also mentioned that Olympic hopefuls Bert Braithwaite, Richard Williamson, Stephon Gouveia and Imran 'Magic' Khan are some of the boxers who will be fighting on the card.
Linden native Edmond DeClou who is the CABOFE and national middleweight champion will be in an exhibition bout on the card.
Dharry who is currently in Guyana because of ring duties briefly stated that it is always a pleasure being home in Guyana  and recalled that he had the opportunity of being sponsored as an amateur and he felt like it is now his turn to return the favour of support.
Digicel will be providing the trophies for all the top performers. The event boxes off at 18:00hrs.
Around the Web