Football in the ancient county of Berbice on Wednesday last  received a massive boost when the Rose Hall Town Youth and Sports Club (RHTYSC) in conjunction with Food for the Poor handed over a collection of items to the Berbice Football Federation (BFA).
The donation valued at $300,000 included a water pitcher, trophies, football uniform tops, hand sanitizers, 60 pairs of dress pants, educational kits and seventeen dinner jackets.
Club Secretary/CEO, Hilbert Foster in handing over the donation to President of BFA, Keith O'Jeer at the club's Area 'H' Ground hailed the football association for its outstanding work to uplift the standard of the game.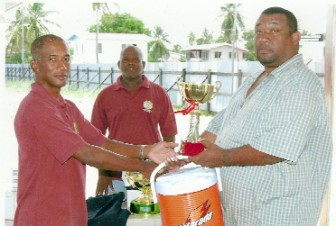 Describing sports as a positive avenue for youths, he urged the BFA to expand its activities to include off the field activities like educational and social programmes that would assist the young footballers to develop as rounded individuals.
He pledged that the RHTYSC would continue to assist in  the development of Berbice football and to support the BFA in hosting a raffle to raise funds for the game.
Meanwhile, President of the BFA, Keith O'Jeer and Secretary, Joseph Simon, both praised the RHTYSC and Food for the Poor for the assistance and stated that it would be used for youth development programmes which target the under-13 to under-17 levels.
President O'Jeer described the RHTYSC as a unique organization which is a tireless advocate for youth and sports.
Around the Web