By Emmerson Campbell
London Olympic Games hopeful, cyclist Alonzo Greaves will look to return to top form in order to turn in impressive performances at the 30th annual three-stage road race which pedals off on May 12 in Corriverton.
The local cycling star sustained a broken wrist in Jamaica last year while on international duties and also injured his shoulder last month while competing at a meet in Linden. Those injuries, he said, have stymied his progress and have negatively affected his performances recently.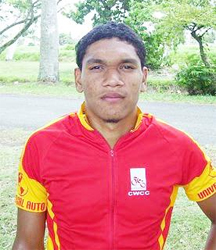 However, when Stabroek Sport caught up with the 2009 winner of the event yesterday, he stated that he was  currently in intense training on and off his saddle to return to the form he had last year which enabled him to be considered for the Olympics.
"For the past three weeks I have been doing a lot of mileage, motor pacing intervals and some short sprints. I'm just trying to get back the form I had from last year before my wrist injury in Jamaica," said Greaves during an exclusive interview.
The 23 year-old mentioned that he has also been doing some gym training with fellow Olympic hopefuls Marlon 'Fishy' Williams and Geron Williams, lifting weights in the Michael Parris Fitness gym to strengthen their physiques.
"For the past two months me, Marlon and Geron, we have been in the gym in the National Park strengthening our bodies. For me the gym has helped because it has bettered my sprinting. Normally I used to sprint like 200 metres now I'm sprinting for about 500 metres so it has been helpful," said Greaves.
Greaves noted that he will be settling for nothing less than a top five finish and further noted that his Roraima Club, which has top riders Warren '40' McKay, Raymond 'Steely' Newton, Albert Philander, Alex Mendes and Marlon Williams, will be riding as a team.
The three-stage race which will cover a distance of 171.5 miles (274.3km) is organized by national cycling coach, Hassan Mohamed for the 46th Independence Anniversary celebration and is sponsored by the National Sports Commission.
The first stage will commence at 7:30hrs at the Corriverton Police Station and will finish at New Amsterdam. (46.6 Miles) (75km).
The second stage starts later the same day at 14:00hrs from Rosignol and will proceed to Carifesta Avenue, Georgetown for the finish. (60.4 Miles) (97.1km).
The final stage of the event will start at 08:00hrs in Kara Kara, Linden and will conclude at Homestretch Avenue in Georgetown. (64.5 Miles) (103.3km).
Cyclists are required to register their names with their respective clubs or team manager for submission not later than May 3 during normal working hours at the National Sports Commission Office, 91 Middle Street, South Cummingsburg.
Transportation will leave the National Sports Commission Office at 12:00hrs with cyclists and officials on May 11 for Springlands, East Berbice.
Cyclists are requested to wear their club jerseys and numbers issued before the event.
The riders will not be allowed to start the race without their racing licence.
Last year's winner was Yosmani Pol of Team Coco from Miami who won the event in six hours, 39 minutes and 34 seconds.
Around the Web