A $9.32 million tennis court at President's College Secondary School, Golden Grove, East Coast Demerara, was officially declared open on Wednesday and sponsor of the project, Bakewell, was praised for the significant contribution.
At the event were representatives from the Ministry of Education, the Guyana Lawn Tennis Association (GLTA), students and faculty members of the school and proprietor of Bakewell, Naeem Nasir.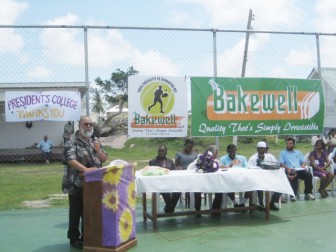 In opening remarks, principal of the school, Carlyn Canterbury, spoke of the institution's gratitude to the GLTA and Nasir, and gave the assurance that full use will be made of the facility and much effort will be made to preserve it.
"It's a great honour to welcome you to this the opening ceremony of the lawn tennis court of President's College which materialized as a result of a much appreciated and huge gesture of the Chairman of the Tennis Association, Christopher Ram and the sponsor Mr. Nasir of Bakewell. I take this opportunity to say on behalf of the staff and students of President's College how grateful we are to be the recipients of such a huge gift and to assure you that much effort will be made to make full use of the facility, to care it and to preserve it," Canterbury said.
Plans to build the court at a cost of some $9.32 million initially began back in 2010.
Construction followed in the early part of last year. The project was fully funded by bakery giant, Bakewell.
Ram, in his remarks, said that the GLTA merely played a small role in catalyzing the project adding that it was largely through the works of Nasir that the project was made possible. He also took the opportunity to point out the great job done by the contractors of the project.
"A couple of years ago, we in the tennis association approached a number of persons, Mr. Naeem Nasir is one of them, Mr. Sankar Khan is another; and they have all in their own particular ways contributed. Mr. Nasir did a great job – he undertook it almost at the first words and I think this will stand as a permanent gesture to you, his generosity and interest in looking after the children and future of Guyana. As well we would like to thank the contractors," Ram said.
Nasir also took to the podium to express his pleasure at being involved in the venture. He challenged the students to make full use of the facility while highlighting the benefits of sports and the integral part it plays in human development, sentiments also  reiterated by the representative of the Ministry of Education.
He added that his company firmly believes that sport is the missing link in human development. Bakewell also sponsors cricket in Berbice, football in Linden, and the national football team, Nasir noted.
Around the Web