By Emmerson Campbell
London Olympic Games hopeful and joint Junior Sportsman of the Year Imran 'Magic' Khan, along with Stefan Gouveia and Burt Braithwaite will wing out to Rio de Janeiro, Brazil on Tuesday to participate in the Olympic Games box offs.
Khan will compete in the bantamweight division while Gouveia and Braithwaite will match gloves with lightweights and junior welterweight pugilists respectively.
So said president of GABA, Steve Ninvalle yesterday.
Ninvalle said that his association was cautiously optimistic about the chances of the boxers who will commence competition on May 4.
He said that the team was encamped at the Andrew 'Sixhead' Lewis gym for quite sometime under the watchful eye of Cuban coach Francisco Hernandez Roldan and GABA's Technical Director Terrence Poole adding that they are prepared and confident ahead of the bouts.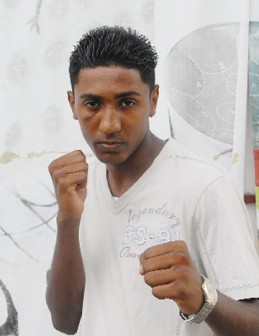 He also mentioned that despite being optimistic he is also saddened by the fact the team had to be shortened because of financial constraints. The GABA president mentioned that the original plan was to send four boxers, a manager and a coach to Brazil. However, the price of each ticket which costs US$1600 not to mention meals and accommodation, proved too costly for the association.
As such, Richard Williamson suffered the disappointment of being left off the team and Poole will have to perform the duties of coach and manager.
Ninvalle said that he hopes that Williamson keeps his goals in sight and not let the setback affect his future.
Khan, who attended the AIBA training camp in Wales earlier this year,  will be aiming to finish in the top-two as only the winners and runners-up in his category will qualify for London. Braithwaite is more fortunate as his window of opportunity is wider because the top five in his category will advance.
Gouveia will also have to be on top of his game as his category is just as competitive as Khan's. Ninvalle thanked Minister of Sport Dr. Frank Anthony and Permanent Secretary Alfred King for their support. He also thanked Digicel, president of the Guyana Olympic Association K. Juman Yassin, Cummings Electrical and others for their contributions. The team will first fly to Suriname before going on to  Belem and finally, Rio de Janeiro.
Around the Web