A story which appeared in Saturday's issue of Stabroek News about the hardships being encountered by a double amputee so moved Chairman of the International Cricket Council (ICC) Clive Lloyd, that he has decided to donate a wheelchair to the double amputee Rickford McKenzie.
McKenzie is a diabetic whose legs have been amputated and Lloyd said after reading of the 56-year-old's plight he has decided that he will donate a wheelchair to help McKenzie move around.
"We've got to help such people," said Lloyd who added that the wheelchair will be a donation from the Clive Lloyd Foundation which he has set up for just such a purpose.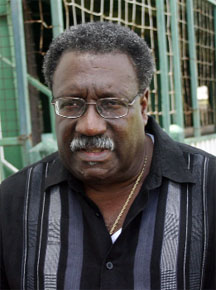 Lloyd, who is a special advisor on sports to President Donald Ramotar, said that one of the objectives of his foundation is to render assistance to disadvantaged people.
He said he had previously provided a wheelchair to a young lady who lost her legs in Zimbabwe and is also at the moment assisting a youngster from Sophia.
Lloyd is at present chairman of the Interim Management Committee (IMC) which is tasked with the restoration of Guyana's cricket and he seems bent on giving back to Guyana after a career which saw him becoming the  most successful West Indies Test captain.
Lloyd said he was due to leave the country last night for the United States of America where he will try to procure the wheelchair for McKenzie.
Around the Web