National junior sprinting sensation Stephan James had the final say in the much heated and anticipated 200 metres race of the Athletic Association of Guyana U-23 championships by winning that race in a stylish fashion at the Police Sports Club ground Eve Leary, yesterday despite a high tide delay.
Elton Bollers, who upset both Ageday and James in the Under-20 metres last weekend, was outclassed yesterday placing fifth.
James won the race by running a brilliant curve and finishing hard clocking 21.4s for the top spot while beating the field by a clear margin.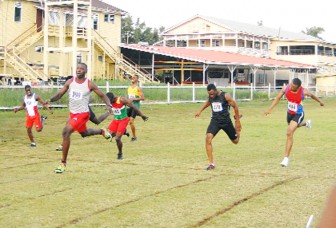 Ageday was second in a time of 21.60s while Bollers fell to fifth falling more than a second off his win last week with a time of 22.30s. Akeem Stewart was third with a time of 21.90s.
"I told him once he won the turn he would win the race and that's exactly what happened," co-coach of the Running Brave Athletic Club Julian Edmonds told Stabroek Sport as he recalled what happened in the race.
Police Sports Club captured their third straight under-23 Championships with 366 points while Running Brave was second with 221 points.
The Guyana Defence Force followed in third place with 136 points.
James grabbed a sprint double by winning the men's 400 metres just after the 200 metres final in a time of 49.60s.
Earlier in the day, just before the 200 metres final, Ageday won the 100 metres in a time of 10.70s.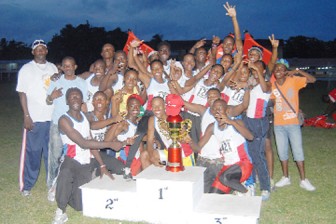 Neisa Allen was forced to relinquish her 100 metres Under-23 100 metres female title to Alita Moore who executed an amazing drive phase to come out with the win in a time of 12.20s. Allen fell to third with a time of 12.80s while Tiffany Carto was second with a 12.50s run.
However, Allen did manage to run away with a sprint double at the Digicel sponsored games after claiming both the female 200 and 400 metres in times of 25.00s and 59.00s respectively.
Moore also claimed a double by winning the female long jump event with a distance of 5.22 metres.
Two-time 1500 metres gold medalist at the Carifta Games Jevina Straker won the female's 800 and 1500 metres in the absence of distance queen Alika Morgan who was forced to watch from the stands following registration issues.
Straker clocked 2:22.20 and 5:10.50s to run away with the 800 and 1500 metres events respectively.
Kevin Bayley then duplicated Straker's performance by winning the male version of both events by clocking 1:59.90s and 4:11.20s to claim the 800 and 1500 metres events while Nathaniel Giddings enjoyed his third straight victory at the 5000 metres distance without his rival Samuel Kaitan from Rupununi who was out owing to registration issues as well.
Giddings clocked 16:46.10s for the top spot while Bayley was second in a time of 17:32.60s.
Around the Web