Jorge Medina took the first prize in Saturday's Scotiabank Golf tournament which saw the bank donating $325,000 to orphanages of the winners' choice. Medina shot a gross 94, and with his 28 handicap, ended with a net 66. He said he overcame the embarrassment of the first few holes which showed how rusty his swing was and quietly set about putting together a decent score eliminating any blow ups and chalking up several single bogies and some pars. It was enough to pip two other players including the ever improving Rawle Moore who shot an awesome 82 (16) also for a net 66. Moore in turn edged out Mohan Dinnanauth who actually parred the course (70) also for a net 66. When there are ties like these, the last nine holes are counted to decide the winner.    Fourth place went to David Harry with a gross 85 (17) net 68. Best gross went to Dinnanauth, while his brother Deoram Dinnanauth took nearest to the pin with a shot that landed a mere seven inches from the hole.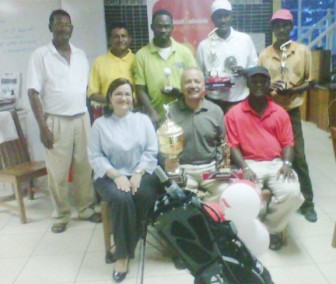 In her comments at the prize giving ceremony Scotiabank Country Manager Amanda St Aubyn, said the bank has had long ties to the club through several of its managers being keen golfers, including Esau Shamshudin and Club President Brian Hackett.
She said she fully expected the club's ties to continue.  Hackett, speaking on behalf of the club, said the decision to donate funds to the orphanages was a good initiative and he foresees other sponsors considering similar donations. The three orphanages chosen by the winners are for Medina: Cheshire Home $150,000, Rawle Moore, Joshua House $100,000 and Mohan Dinanauth, St Anne's Orphanage, 75,000.
In addition, the bank held a raffle for all the players with various gifts such as umbrellas, balls and other items being handed out. On Sunday it also organised a domino competition between its team, the golf club and an invited team Quick Six which prevailed after a thrilling tussle with the bank that went down to the last round.
This Saturday's tournament will be a farewell event for retiring Scotiabank manager Shamshudin who has been a longtime supporter of the club, holding various executive positions and contributing his time and effort to improving the facilities at the course.
Around the Web