Nicholas Cassius' 22 points led Plaisance Academy to their second straight win when they defeated the University of Guyana (UG) in the Youth Basketball Guyana (YBG) organized schools competition Sunday evening at the Cliff Anderson Sports Hall (CASH).
Cassius showed vast improvement in his ball-handling skills compared to last year and finished easily around the rim especially on fast break points as the game ended 61-50.
The game was fast-paced which went in Plaisance's favour as their players were smaller in size to UG's players who committed simple turnovers while failing to use their size to their advantage.
Nikkoloi Smith finished two steals shy of a triple double for Plaisance as he put together a 10-point, 12-rebound game along with eight assists.
Meanwhile, UG showed vast improvement on shooting the basketball compared to their first game of the tournament with Shaka Codrington contributing  22 points. Clayton Reece was the other main scorer for the university students.
Earlier, Marian Academy was phenomenal as they won by a double digit margin for their second straight win of the tournament against Charlestown Secondary. The game ended 49-21.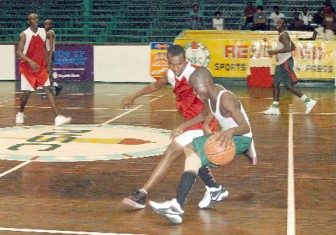 Marian was a bit slow to get things started as their players were unable to find their range in the first half which saw the score all tied up at 17 at the halftime buzzer.
However, the halftime did wonders for the blue and gold (Marian) as they came out firing, finishing more efficiently at the rim and settling for less jump shots by attacking the rim.
Slevaughn Moseley found his shooting touch scoring 16 points and collecting eight rebounds while Tequain Vieira went for 10 points in the game. Charlestown Secondary saw none of their players hitting double digits in the scoring category as Colin McIntyre had the best figures with four points and 11 rebounds.
The Government Technical Institute (GTI) played their first game since the competition began but failed to come out on top against President's College (PC). The  game ended 42-53.
GTI had strong plays during the game from both Drexel Amsterdam (16 points) and Patrick Reid (13 points) but were unable to receive any other meaningful contributions from their team members which would have probably tilted the game in their favour.
However, Nyamebekyere Bacchus came up big for PC, scoring 13 points and grabbing 13 rebounds. Bacchius was a force in the paint especially on the defensive side.
Guyana School of Agriculture (GSA) rebounded from their loss to Plaisance Academy last weekend by putting a stroke in the win column with a 56-25 routing of St. Rose's High who lost their second straight game.
Quincey Easton dominated the ball for GSA as he displayed his ability to score in a variety of ways from the floor. Jamal Watson was also a factor in the win as he scored 14 points to ensure the blow out win.
The Georgetown conference will continue today from 16:00hrs with  Charlestown Secondary battling Queen's College while Plaisance Academy will take on St. Rose's High School.
Around the Web