On the night when the young boxing stars showcased their talent in the mining town, Travis Hubbard from the Harpy Eagles gym shone the brightest Monday night when the Guyana Amateur Boxing Association (GABA) staged its inaugural open air card at the Mackenzie Bus Park in Linden.
Hubbard outslugged Forgotten Youth Foundation (FYF) gym product Dawani Lampkin in an entertaining fistic combat to earn the best boxer award.
The award was adjudicated by Cuban coach Francisco Hernandez Roldan who is in Guyana on a two-year stint and was presented by former Commonwealth junior middleweight champion Kenny Bristol.
Richard Williamson, who lost his place on the Olympic box-off team because of financial constraints, proved why he was considered to represent Guyana. The bantamweight Pocket Rocket Boxing gym pugilist taught Terrence Adams from the Harpy Eagles gym a boxing lesson, taking him to school with an array of power punches to the head and body.
After two-and-a-half rounds of absorbing punishment and persistently holding, Adams was disqualified for infringement of the rules.
The Olympic box off team, which winged out to Rio de Janeiro, Brazil last night comprises Imran 'Magic' Khan, Stefan Gouveia and Bert Braithwaite. The three boxers were at the card on Monday and assisted with the presentation of trophies, medals and mouth guards.
Also in the winners' row were Tyrese Mullings, Anthony Thomas (50-54 pounds), Christopher Timmerman (70-74 pounds), Kurt Allicock, Albert Thomas(75-79 pounds), Shaka Moore (80-84 pounds),Shawn Michael (110-115 pounds), Tito Ashe (130-137 pounds), Jose Chappell (160-167 pounds) and Jamal Thomas (168-175 pounds).
Linden native and national and CABOFE middleweight champion Edmond DeClou and amateur middleweight boxer Eon Bancroft also put on a three-round exhibition bout.
In an invited comment the Briso Promotions Ceo Seon Bristol, said that he has gotten overwhelming support for the event which he plans to make an annual one.
Said Bristol "I think the initial idea has been good, I have gotten tremendous support from everyone, I haven't meet anyone yet who has said Seon stop, think what about this, what about that the first instinctive reaction to everyone was `wow, great idea, go brave', tonight being here it more than pleases my heart of the turnout, the support from all the fighters and all those who have been involved in this event have shown tremendous support."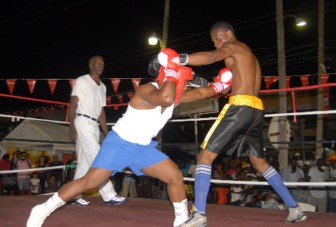 Bristol continued "From the guys who set the ring up, to Banks DIH, who offered us the lights, to Digicel, who gave us the trophies and medals and to all the other sponsors, we are thankful. These are things that motivates me and by no means necessary will I allow this not to continue, I love the idea and with the support, it is almost impossible for this not to happen next year and many years to come".
GABA president Steve Ninvalle echoed similar sentiments.
"Kashif and Shanghai started just like this and we intend for this to be an annual event, it's also part of the decentralizing programme, this is our teething process here but we have already started planning for next year and I know it will be great for amateur boxing, hope fully we will keep this up for a long time."
The 13-fight event which coincided with the annual Linden Town Week activities was a collaborative effort between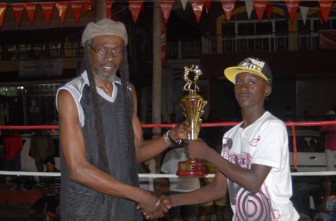 GABA and Briso Promotions CEO Bristol.
The event showcased young talent from Linden and all around Guyana and according to Ninvalle, anything that exposes, young talent is good.
"This showcases our young talent and anything that show cases young talent is good. In Linden boxing has been extremely dormant but Linden has raw talent but for some reason they have not been coming forward so this is a part of getting them out and getting sponsors out as well," said Ninvalle.
Sponsors for the event included the Briso's Family, Digicel, Delta Airlines, Allison Butters- Grant, Mark Arthur, Cybil Bakery of New York, Kevin Smith, Lion Love Promotions, Claude Blackmore, Kenny Bristol, Dillon Carew, Steve and Raul Frank, and Elton Dharry.
Around the Web