(Reuters) The Boston Celtics held firm while Eastern Conference rivals the Chicago Bulls collapsed as the NBA title contenders handled the absence of their All-Star point guards in different ways on Tuesday.
Boston, despite the absence of the suspended Rajon Rondo, clawed their way to a series-tying 87-80 victory at the Atlanta Hawks, while the Bulls, without the injured Derrick Rose, lost to Philadelphia in a 109-92 blowout.
Paul Pierce seized the mantle with 36 points and 14 rebounds as the veteran Celtics outscored Atlanta 26-14 in the fourth quarter to seal victory.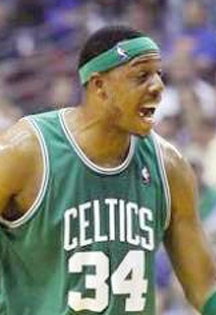 Boston trailed by 11 points late in the third but used an 11-2 run in the fourth to beat the Hawks, who got a team-high 22 points from Joe Johnson.
Atlanta's Josh Smith had 16 points and 12 rebounds but left late in the fourth quarter with a sprained left knee.
""He is one of our go-to guys down the stretch," Hawks coach Larry Drew told reporters. ""We were missing all of the things he brings to the table for us, especially down low."
Rondo, who was handed a one-game suspension for bumping a referee in the series opener, should return to the Celtics lineup on Friday for Game Three in Boston.
Rose, however, has already been ruled out of the playoffs after he ruptured a knee ligament on Saturday.
Philadelphia's Jrue Holiday scored 26 points while Lou Williams added 20 as the 76ers played a high-tempo game and ran away from Chicago with a 36-14 advantage in the third.
Second-year guard Evan Turner was inserted into the starting lineup for Philadelphia and he paid dividends with 19 points, seven rebounds and six assists.
""With his ball-handling and penetrating they kind of sagged off me. He got me open," Holiday said. ""If we get it pushing we get a lot of highlights. That's what we do."
Joakim Noah led the Bulls with 21 points and John Lucas added 15.
Game Three is in Philadelphia tomorrow with the series tied 1-1.
Around the Web