(Las Vegas Review Journal) He had been beaten and battered for almost 12 rounds by Manny Pacquiao in 2009. But despite having bounced back from that loss with two knockout wins, Miguel Cotto still was exorcising demons within himself.
Cotto's other loss was in 2008 to Antonio Margarito. But it wasn't until he avenged that loss by stopping Margarito in the 10th round Dec. 3 at Madison Square Garden in New York that Cotto finally had found the inner peace for which he had been searching.
"When I won that fight, it was as if all the good things I had done before we fought the first time had come back to me," the 31-year-old from Caguas, Puerto Rico, said Tuesday at the MGM Grand Garden, where he will put his WBA junior middleweight title on the line Saturday against Floyd Mayweather Jr. "I was back in the game."
Cotto (37-2, 30 knockouts) said his confidence had dropped in the aftermath of the loss to Margarito, and losing to Pacquiao a year later didn't help.
He changed trainers, working with veteran Emanuel Steward, who helped get him back on track with a ninth-round technical knockout of Yuri Foreman in June 2010 in the first fight at the new Yankee Stadium.
But before facing Margarito, he changed trainers again, opting for Pedro Diaz, who had coached many of Cuba's top amateur fighters for years.
Cotto had approached Diaz about training him early in his career, but Diaz refused, saying he wasn't ready to work with Cotto. But with the Margarito fight looming, Cotto convinced him to join his team as he sought revenge.
The two clicked, Cotto won, and his confidence was restored. Diaz will be in Cotto's corner Saturday.
"After the Margarito fight (on Dec. 3), I feel much, much better with myself," Cotto said. "I think this is the right moment for this fight" with Mayweather.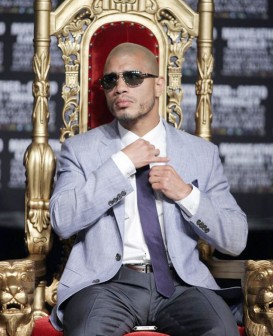 Cotto will enter the ring as a 7-1 underdog. But he says he never pays attention to the odds, nor worries about what people think of his chances. Even Mayweather has been nice to him during the promotion of the fight, which will be televised on HBO Pay Per View.
"I don't need anyone to give me a chance," Cotto said. "If I trust myself, if I trust my work, I don't need anyone else." Cotto isn't sure what to expect from the 35-year-old Mayweather (42-0, 26 KOs). He might stand and trade punches with Cotto. He might use his quickness to elude Cotto and counterpunch.
"I think he works really hard," Cotto said. "He's a pretty skilled guy. He thinks well inside the ring. But come Saturday, he'll have another hard worker to deal with."
Cotto said while he and Mayweather are veterans inside the ring, they're different outside it.
"Floyd has his life; I have my own," Cotto said. "He can do whatever he wants. I'm not going to judge him."
And as he prepares for one of his biggest challenges, Cotto's life appears to be serene.
"When you work in peace and in comfort with people around you that love you and care about you, you live in a peaceful atmosphere," he said. "That's where I am right now. I have a great team. Every member is a special person for me. I have peace in my heart and in my life.
"I understand it's not the way you fall, it's the way you stand up again and keep working. I wake up, and I'm still working."
Around the Web