David Khan and his son Taffin are in the lead after three rounds of the nine-round Caribbean Containers-sponsored Junior FIDE rated tournament which commenced last week-end.
David and Taffin are on the maximum three points after three rounds in the tournament organized by the Guyana Chess Federation (GCF) in an effort to establish FIDE ratings for its junior players.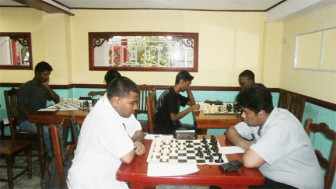 Five of the six junior players participating in the tournament have gained points which means that the pool of FIDE rated players will increase following the completion of this tournament.
National champion Taffin Khan has a FIDE rating of 1809 while his father's rating is 1386.
Junior player Anthony Drayton, with 2.5 points occupies the second spot while former national junior champion, Queen's College student, Cecil Cox, lies third with two points.
Shiv Nandalall has one and a half points while national junior champion Haifeng Sue, Ron Motilall and Kana Khan are on one point each.
On Sunday, Anthony and Drayton and Cecil Cox both were successful in their matches against rated players. Drayton played to a draw against GFC president Nandalall who has a rating of 1715 while Cox defeated Ryan Singh whose rating is 1456.
The tournament continues tomorrow at the Ocean Spray International Hotel with fourth round matches which will pit  Su against Taffin Khan, Drayton against Ron Motilall, David Khan against Kana Khan, Cox against  Sham Khan and Singh against Nandalall.
Around the Web