(Las Vegas Sun) Ask Floyd Mayweather Jr. a question at your own risk, because you can never be sure where the answer will take you.
During a nearly hour long conversation with a handful of reporters at the MGM Grand on Tuesday, Mayweather bounced at his own pace from his upbringing as a child and listing his boxing idols to the details of a trip to Dubai and his struggles with fame. Only occasionally did he discuss Miguel Cotto, his opponent Saturday night whose own entrance and interview were long forgotten by the time Mayweather stood up, animated as ever, and impassionedly expressed his discontent with the fact that many Americans don't take his side when it comes to the Manny Pacquaio debate.
Yes, that topic again.
Mayweather meandered through his stories for the bulk of the time, stopping and starting when he felt like it, sometimes answering the question, sometimes not, but when Pacquaio's name came up the discourse changed. Mayweather turned from storyteller to speechmaker, calling Top Rank's Bob Arum a "professional liar" and emphatically stating he doesn't believe Pacquiao is a clean fighter.
"This is so easy, Ray Charles can see this," Mayweather said. "It's basic common sense, go look at the pictures and tell me this man's head didn't get bigger. This man probably went from a 7 1/4 to an 8 fitted hat."
Mayweather's health, he said, is more important than the fortune he could make off that fight, and so Saturday he will instead move up to the 154-pound division for just the second time to face Cotto, whom Mayweather believes will be a bloody mess if he tries to go toe-to-toe.
"He's not going to be able to outfight me in a war," Mayweather said. "He bruises, he cuts, he swells, his eyes close, he's a bleeder. I'm not."
Cotto arrived at the MGM Grand lobby a little after 2:30 on Tuesday afternoon, just a shade behind schedule. He escorted his mother down the aisle created by barricades to hold back the throngs of fans who showed up for the event.
When Cotto went to the back room for a more intimate meeting with reporters, he spoke so softly he could barely be heard. The Cotto you see on the HBO Sports series "24/7" is the same one who showed up in Las Vegas, a quiet man who has less interest in the business side of boxing than you would in performing jury duty.
He's here to fight, not talk.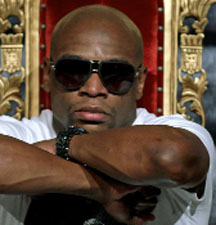 "The only thing I can tell you is I'm ready," Cotto said.
Cotto has won his last three fights, all by technical knockout. The most recent was a redemptive victory last December against Antonio Margarito, whose 2008 victory against Cotto is tainted by the possible use of illegal hand wraps.
That plus a 2009 technical knockout loss to Pacquaio put Cotto in a bad state of mind that he wasn't sure he would pull out of. But with the help of his inner circle and that payback against Margarito, Cotto said, he's been able to use his losses to move forward.
"I have two defeats that made me the man I am today," Cotto said.
Cotto's session lasted about 20 minutes, an appetizer to the roller-coaster Mayweather took the room through more than an hour later, all the while checking on the score of the Boston Celtics-Atlanta Hawks playoff game so that he could bet the second half.
And on that note, no, Mayweather said, he did not bet $1.8 million on the Los Angeles Clippers on Sunday, nor did he make whatever other crazy-sounding bet you read about on Twitter or heard through the grapevine. His gambling is legendary at this point because of the wins he posts on Twitter and the losses people can only assume he's suffered. It's Las Vegas, Mayweather said, and gambling is what you're supposed to do here.
So why doesn't he gamble his perfect record against the best fighter on the market? Yes, that again.
Mayweather begins an 87-day prison sentence on June 1, and days later Pacquiao fights Timothy Bradley at the MGM Grand Garden Arena. The question after Mayweather gets out of prison will be if the pair will ever step into the ring with each other.
Mayweather is convinced that Pacquaio juiced, and with his health more important than money, there's no way Mayweather will step into that ring. But until it happens or both Mayweather and Pacquaio are long retired, that will lead the conversation.
Unless Cotto speaks up, either with his mouth or his fists, a fictional bout will continue to dominate this fight week.
Around the Web