By Emmerson Campbell
"These things do happen in boxing but we will be back stronger and better than ever."
That's the warranty being offered by Lennox Daniels, trainer of super featherweight boxer Mandessa Moses who suffered a shocking unanimous upset defeat at the hands of Venezuelan debutant Ana Lozano last Friday at the Cliff Anderson Sports Hall.
During a telephone interview with Stabroek Sport, Daniels intimated that although he does not like to make excuses, Moses was not her usual self as her malaria surfaced one week before the fight.
"I'm not the type of person to make excuses for anyone but the fact is that Mandessa's malaria rose up a week before the fight. She had excessive bowel movement, she was sometimes weak and tired and she lacked the power and snap in her punches that she usually has."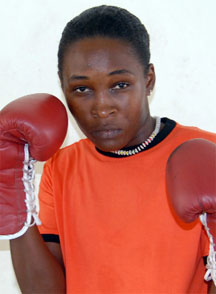 Daniels continued: "We are disappointed that she lost the fight, but this is a part of the sport – these things happen in boxing, but we will be back stronger and better than ever."
Daniels said that a possible rematch is on the cards as they know once Moses is at full strength she has what it takes to defeat Lozano.
"Mandessa will take a break, possibly a week or two, get her health together and start training again. We know at full strength that girl can't beat Mandessa," Daniels assured.
Asked why Moses still took to the ring although she was not 100% ready, Daniels said that she  is a warrior and did not want to let down her fans.
Said Daniels: "She could have pulled out of the fight and make excuses, but Mandessa is a true warrior. She did not back out of the fight and made excuses, that shows that she has the guts and the will of a champion. A lot of boxers would have pulled out but not Mandessa, we went in there and fought – she thought she had enough to win but she just didn't."
Daniels noted that Moses could possibly be back in action as early as next month or in July depending on her health. He also said that a rematch with Lozano should take place later in the year.
"The main concern right now is Mandessa's health but once everything is ok we will be back in the ring next month or in July and we will be looking for a rematch with Lozano because we know we can beat her, Mandessa has what it takes," said Daniels.
Moses who lost the second bout of her professional career last Friday night, now has a record that reads  seven wins and two losses.
Around the Web