HOVE, England, CMC – Captain Darren Sammy was at pains yesterday to point out the importance of team work, as a West Indies team missing its major stars held its first training session since arriving here Wednesday for a three-Test tour. West Indies will be without former skipper Chris Gayle, Ramnaresh Sarwan and all-rounder Dwayne Bravo, all of whom are experienced in English conditions.
Sammy, however, told reporters that molding a unit was the most important item on the agenda for team management, instead of heavy reliance on individual stars.
"Last time we came (to England), we had a whole lot of big names and the Lord's Test was over in two-and-a-half days. We haven't got the same big names now, but aim to be very competitive," Sammy contended.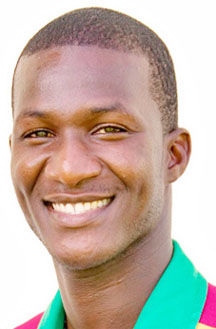 "The guys work hard for each other. Ever since Coach Gibson came on board he has tried to instil the professional attitude. One of our team mottos is to display a positive, 'can-do' attitude at all the times.
"The whole mindset is about doing it for the West Indies people. That is at the forefront of our minds. The guys are starting to shape like a family, and you can see that when we are on the field. For me the job is getting easier and easier." West Indies are coming off a strong performance in the recent series against Australia where they drew the five-match one-day series 2-2, tied the two-match Twenty20 series 1-1 before losing the three-Test series, 2-0.
Despite the disappointing Test result, the Windies made Australia work hard for their victories, a feature Sammy hopes will continue against England. "I think we are coming from a tough series in the Caribbean," Sammy explained.
"We have played some good cricket in the year-and-a-half, and we are quite confident we can come to England and play well, so everyone is looking forward to May 17, when the real thing starts.
"It's never [an easy thing] to play England on home soil. They are quite a strong team when they play in their own backyard. What I can tell you about our side is that we will come and play with a never-say-die attitude."
West Indies begin the series as massive underdogs, especially with England the current number one-ranked team in the world.
On the other hand, the Windies are ranked number seventh and have won just three of their last 31 Tests, with one of those victories coming against minnows Bangladesh.
With head coach Ottis Gibson serving as England bowling coaching prior to his current appointment; Sammy believes the Windies can use his insider knowledge as an advantage.
"We have a good coach and he has a lot of experience in England, so I know he will make sure the information in the dressing room is clear and we will try to execute our plans," the all-rounder said.
"It is good having him in the dressing room and the guys are slowly, but surely buying into what he is trying to instill in this team.
"We have been taking 20 wickets over the last year-and-a-half, and I must give the coach credit for this. All of the bowlers have commended him for the work he has done with them." West Indies face Sussex in a three-day match here starting tomorrow.
Around the Web