(Reuters) – South African-born pace bowler Neil Wagner was fast-tracked into New Zealand's test squad yesterday for their tour of West Indies, just two weeks after receiving approval from the International Cricket Council to be selected despite not meeting residency requirements.
The ICC requires a player to spend at least 183 days in a country for four successive years to be considered for selection.
The 26-year-old Wagner, who moved to New Zealand in 2008, failed to achieve the minimum number of days on two occasions.
Once because he was playing a Twenty20 competition overseas with his New Zealand province Otago, and the second time due to a family wedding.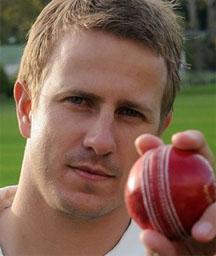 Wagner had been expected to be named in the squad after he received dispensation from the ICC last month. He is the third South African born player to be named in the test squad following wicketkeeper Kruger van Wyk and wicketkeeper batsman BJ Watling.
"Neil has been an extremely good performer in (first-class cricket) for a number of seasons and deserves his opportunity," national selection manager Kim Littlejohn said.
Swing bowler Tim Southee, who struggled for line and consistency in the test series against South Africa and was dropped from the side, has not been included in the test squad for the tour that begins with two Twenty20 internationals in Florida before moving to the Caribbean.
Southee, however, has been named in the limited overs sides for the two Twenty20 games and five one-day internationals.
Aggressive batsman Brendon McCullum has been rested for the limited overs portion of the tour, Littlejohn said, as has all-rounder James Franklin.
McCullum also normally keeps wickets during the shorter forms of the game but Watling, who has recovered from a hip injury that gave van Wyk the opportunity to cement his place in the test side in the series against South Africa is likely to be behind the stumps in McCullum's absence.
New Zealand open their tour on June 30 with their first Twenty20 match in Florida.
Twenty20 squad: Ross Taylor (captain), Martin Guptill, Doug Bracewell, Dean Brownlie, Andrew Ellis, Daniel Flynn, Ronnie Hira, Tom Latham, Nathan McCullum, Kyle Mills, Rob Nicol, Jacob Oram, Tim Southee, BJ Watling, Kane Williamson
– –
One day squad: Ross Taylor (captain), Martin Guptill, Doug Bracewell, Dean Brownlie, Andrew Ellis, Daniel Flynn, Tom Latham, Nathan McCullum, Kyle Mills, Tarun Nethula, Rob Nicol, Jacob Oram, Tim Southee, BJ Watling, Kane Williamson
– –
Test squad: Ross Taylor (captain), Trent Boult, Doug Bracewell, Dean Brownlie, Neil Wagner, Daniel Flynn, Mark Gillespie, Martin Guptill, Chris Martin, Brendon McCullum, Tarun Nethula, Kruger van Wyk, Daniel Vettori, BJ Watling, Kane Williamson
Around the Web