The Lusignan Golf Course will come alive today in a specially arranged Farewell tournament for former Vice President of the Club Esan Shamshudin.
Shamshudin, a senior manager at Scotiabank, is leaving Guyana after some 18 years in the country and 38 years at the bank.
Officials of the Club expect over 40 players to compete in the 18-hole extravaganza for Shamshudin an avid golfer who has been playing at the club for over 12 years and has managed to maintain a fine balance between keeping a respectable handicap while not raising suspicions with his employers that he was too devoted to the game.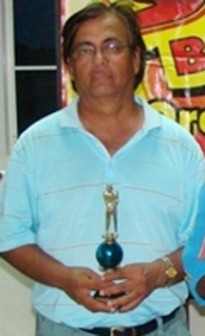 His current handicap of 19 belies a surprisingly long drive, tidiness around the green and flashes of putting brilliance.
Despite a fierce spirit of competition he is among the most congenial members with whom to play golf.
He has served admirably in various positions on the executive including treasurer and vice president and along with his wife Shameela he has made several efforts to improve the course.
Among the players expected to be in action are Club President Brian Hackett, Patrick Prashad, Maurice Solomon, Dr. Ram Singh, Colin Ming, Ian Gouveia, Clifford Reis, David Harry, Andre Cummings, Christine Sukhram, Mohanlall Dinnanauth, Jorge Medina, Rawle Moore, William Walker, Carlos Adams, Hilbert Shields, John Tracey, Mark Lashley, Chatterpaul Deo, Mike Mangal and Alfred Mentore,
Tee off is at 09:30 hours.
Around the Web