By Iva Wharton
Distance athletes Alika Morgan and Samuel Kaitan returned from Suriname recently where they finished first and second respectively in the Telesur 10K championship. Morgan also broke her record set last year.
"Last year I ran 41:03s and this year I ran 39:57s but I am pleased with my time because it is a minute and something difference. The course was very good because the first 5K I ran 18:53s and the second I ran 19:02s."
According to Morgan, while she is pleased with her performance, she was disappointed that she did not get the kind of competition she expected from the other athletes.
"There is a girl from Suriname, she runs very well and I was looking forward for a challenge from her, eventually I did not get any."
This, Morgan said, was her second year competing in the competition.
Kaitan, on the other hand, said that although he was pleased with his performance, he knows that he could have done better, had it not been for the blisters on his feet.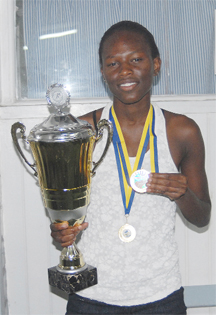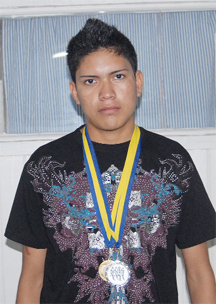 Kaitan said he got the blisters on the bottom of his right foot from running barefooted on the road in Suriname. Kaitan, who hails from the Rupununi, said he has not yet gotten accustomed to wearing running shoes of any kind, but he is working on it. This, he said, is not the first time that he has gotten blisters from running.
The two said that they would like to say thanks to the following agencies for making it possible for them to compete in Suriname: Guyana Telephone and Telegraph Company, Guyenterprise, Colours and East Coast Restaurant.
Morgan said the trophy she won in this competition will be presented to the Guyana Telegraph Company as an appreciation for their continued support throughout the years.
Meanwhile, Leslie Black, coach of both Morgan and Kaitan, said that while Morgan was confirmed for Suriname, he made the decision to take Kaitan along as he was not able to compete in the local under-23 championships organized by the Athletics Association of Guyana.
The two, he said, were not registered despite him pleading with the AAG President Colin Boyce.
"I feel that in the interest of athletics and for the benefit of athletes like Samuel knowing that he went to Carifta and suffered an injury and stayed back in town for that championship, by refusing him that entry is doing an injustice to athletes in this country. I feel that representatives of the AAG should stop being bi-standard."
Kaitan when asked how he felt when he was told that he would not be competing said he was sad and felt frustrated.
Black said he believes that Kaitan was somewhat appeased by his participation in the Telesur championships. He added that hinterland athletes should be given every opportunity to showcase their talents if they are to develop.
Efforts to contact AAG officials for a response proved futile.
Around the Web