By Iva Wharton
President of the Guyana Olympic Association (GOA), K Juman Yassin says the body has, over the years, followed the rules of its constitution with respect to its financial requirements and as a result all of the financial statements of the body have been audited.
Yassin, in an invited comment, was responding to recent criticisms by charted accountant Christopher Ram, an immediate past president of the Guyana Tennis Association,who claimed that the GTA was never provided with copies of the GOA's financial reports.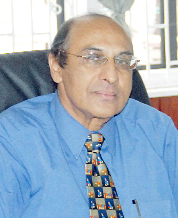 "I am embarrassed to state that as members of the Guyana Olympic Association, we have never been provided with a copy of the GOA's financial reports," said Ram while delivering the president's report at the recent annual general meeting of the GTA.
"It is our view that all national bodies owe a duty to their members and to the general public to provide them with timely, accurate and reliable financial information," Ram added.
"We cannot criticise others for lack of accountability and transparency when our practice and conduct are no better," he charged.
However, Yassin, in the exclusive interview with Stabroek Sport said:"What I could indicate is that the Guyana Olympic Association has always kept within the rules and its constitution.
"Our constitution indicates in article five (a) which deals with general meeting – it states that our general meetings should be held every four years and at these meetings there must be an audited statement of accounts and this was done at the last general meeting.
The next general meeting is scheduled for sometime later on this year. So we have always complied with having audited statements," said Yassin.
According to Yassin, the GOA's constitution is in line and has been approved by the International Olympic Committee (IOC) its governing body.
"So all our statements have been audited and will continue to be audited. We have monthly meetings of the council and the council meetings comprise of one representative from every association which is a member of the Guyana Olympic Association and this includes the Guyana Lawn Tennis Association."
Yassin said at the monthly meetings each association reports its activities and any association or any member at the meeting is allowed to ask questions.
Likewise, GOA representatives, he said, are expected to provide monthly updates to each association.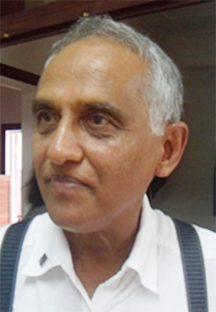 "I don't wish to create any problems but I would wish to state that attendance by the Guyana Lawn Tennis Association is not as it should be and they have, over the years, missed quite a lot of meetings and I daresay Mr. Ram, I may be wrong, but I don't think he has attended more than three meetings."
Yassin also said there has not been any question that has been asked by Mr. Ram or the Guyana Lawn Tennis Association or any other association which has not been answered.
This, he said, is in relation to anything but more in particular, to any financial question.
Yassin said to the best of his knowledge, Ram has not asked any question or made any request of financial papers from the GOA.
"As far as I am aware no question has been asked or any information requested by Mr. Ram or anybody else and as I said, anybody could ask any question and as far as I am aware, not one has asked any question that has gone unanswered over the years."
The GOA president said there is no problem between the GOA and the Guyana Lawn Tennis Association or, as a matter of fact, there is no problem between the GOA and any of its affiliates.
"The relationship between the GOA and each affiliate has been exceedingly good," he said.
He also said that since the statement was published he was trying to make contact with Mr. Ram but was unable to do so and instead left a message on his voice mail.
"I was trying to find out exactly where this is coming from," said Yassin.
Around the Web