Mohammed's Enterprise, owners of the  City Mall will support the upcoming President's/Jefford Track and Field Classic.
The company officially announced their decision to sponsor the meet last Wednesday at Mohammed's Enterprise on Lombard Street.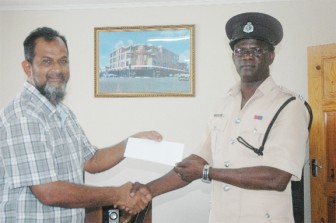 The company will support the event for the first time and will be among the major sponsors of the  third edition of the event scheduled for May 20 at the Mackenzie Sports Club Ground, Linden.
The meet will feature Olympian Marian Burnett and other athletes from the Caribbean.
Managing Director of the franchise, Nazar Mohammed stated his pleasure to be associated with the President's/Jefford Track and Field Classic III. He also mentioned that the steady growth of the event prompted him to join in support of to the event.
"I'm always supportive of sports events that show interest in development, especially in Linden, so this is another way of showing that interest. I am convinced that my contribution will help the organisers continue to develop the event in that community," Mohammed stated.
Mohammed congratulated the organisers for sustaining the event for three years. "I am hoping that we will be able to produce athletes like the Jamaicans some day, which is why I believe events like these are necessary," he said.
President of the Athletics Association of Guyana (AAG), Colin Boyce who was present at the handing over thanked Mohammed for his support toward the success of the event, stating that it is corporate companies that have the power to push the developmentof sports to another level in Guyana.
"Without the support from people like you and your company, sports really cannot develop at the rate we would want it to. I want to thank you for taking this opportunity to make a difference, and by extension set a corporate example in Guyana," Boyce indicated.
Apart from the attractive cash prizes attached to the President's/Jefford Track and Field Classic, the event is a breeding ground for developing Track and Field talent in Guyana.
Last year, Aliann Pompey competed at the meet for the first time since the new millennium and according to organisers they have added more international athletes to the line-up to continue to push the local athletes to their best performances at arguably Guyana's fastest track and field event.
The event is to be officially launched on Tuesday at 11am at Digicel's Headquarters, Kingston.
Around the Web