By Emmerson Campbell
London Olympic hopeful Alonzo Greaves warmed up for the upcoming 30th annual three-stage cycle road race next weekend when he sped off with the  spoils of the Flying Stars Cycle Club-sponsored 50-lap race yesterday at the inner circuit of the National Park.
Greaves' winning time was one hour, 48 minutes and 36 seconds.
The event, which was staged in recognition of the 174th anniversary of Indian Arrival Day, was the first of two warm-up races ahead of the three-stage event.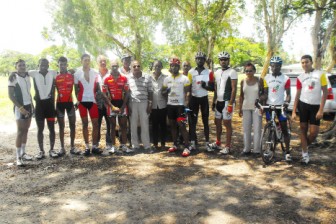 The other race which will cover 40 laps, will pedal off today at the same venue from 8am.
Greaves, who also copped a prime prize, led a star-studded field which included his Roraima Bikers Club mate Albert Philander, Robin Persaud, junior rider Raynauth Jeffrey, Warren '40' McKay and Eric Sankar into the top six respectively.
Despite not winning the event, Persaud was not too disappointed as he carted off eight prime prizes, while three went to Jeffrey, two to Philander and one to McKay.
The top three juniors were Jeffrey, Raul Leal and Akeem Arthur.
Ian Jackson, Kennard Lovell and Alfie Sonaram who are members Flying Stars Cycle, also received special prizes.
The race started off at a steaming pace with Persaud and star junior cyclist Jeffrey separating themselves from the rest of the field of 36 starters from the first lap.
This duo would maintain their lead on the chase peloton for 10 laps until Greaves joined them forming a trio. Philander would join Jeffrey, Persaud and Greaves five laps later and the quartet journeyed together up until 250 metres from the finish line.
With 250 metres to go, Greaves rose from his saddle and began his sprint to the finish line,  hotly pursued by Persaud and Philander but his sprinting ability, which he said has improved since he started gym training, enabled him to stave off his rivals.
The three-stage race which will cover a distance of 171.5 miles (274.3km) is organized by national cycling coach, Hassan Mohamed for the 46th Independence Anniversary celebration and is sponsored by the National Sports Commission.
The first stage will commence at 7:30hrs on Saturday at the Corriverton Police Station and will finish at New Amsterdam. (46.6 Miles) (75km).
The second stage starts later the same day at 14:00hrs from Rosignol and will proceed to Carifesta Avenue, Georgetown for the finish. (60.4 Miles) (97.1km).
The final stage of the event will start at 08:00hrs in Kara Kara, Linden and will conclude at Homestretch Avenue in Georgetown. (64.5 Miles) (103.3km).
Around the Web