By Emmerson Campbell
One day after Alonzo Greaves won the first of two warm up races in the National Park ahead of the 30th annual three-stage road race, his Roraima Bikers club-mate Warren '40' McKay yesterday felt the urge to taste his own success.
After finishing fifth on Saturday in the 50-lap race which was staged in recognition of the 174th anniversary of Indian Arrival Day, McKay sprinted his way to victory yesterday to claim the 40-lap event in one hour, 24 minutes and 51 seconds.
McKay, the 2010 three-stage winner and last year's first runner-up, led a star-studded field which included  Davendra Bissoon, Enzo Matthews, two London Olympic hopefuls Greaves and Geron Williams and Robin Persaud into the top six respectively.
He also copped a prime prize while three went to Orville Hinds and two to Jude Bentley. Bissoon, Matthews and Williams also copped a prime prize.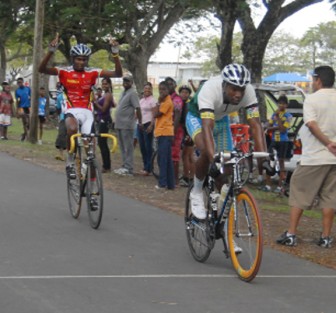 The race started started off at a fair pace with most of the 51 starters bunched up until there was a spill in the 12th lap.
At this point, the top six, along with Eric Sankar, Hinds and Bentley, had a race of their own as they had separated themselves from the pack.
This group would journey together until lap 35 where Bissoon broke away. Matthews joined Bissoon one lap later and the pair worked as a team to open a slim lead with McKay in hot pursuit.
Riding spiritedly, McKay caught Matthews and Bissoon with 400 metres to go. Some 200 metres from the finish line, McKay rose from his saddle and began his sprint to the finish line with Bissoon and Matthews in hot pursuit.
With McKay's experience and superior sprinting ability however, his victory was never in doubt as he easily crossed the finish line ahead of Bissoon by almost five metres.
The event was sponsored by Ray's Auto Sales.
The three-stage race which will cover a distance of 171.5 miles (274.3km) is organized by national cycling coach, Hassan Mohamed for the 46th Independence Anniversary celebration and will be sponsored by the National Sports Commission.
The first stage will commence at 7:30hrs on Saturday at the Corriverton Police Station and will finish at New Amsterdam. (46.6 Miles) (75km).
The second stage starts later the same day at 14:00hrs from Rosignol and will proceed to Carifesta Avenue, Georgetown for the finish. (60.4 Miles) (97.1km).
The final stage of the event will start at 08:00hrs in Kara Kara, Linden and will conclude at Homestretch Avenue in Georgetown. (64.5 Miles) (103.3km).
Around the Web