KINGSTON, Jamaica,  CMC – Sprint sensation Usain Bolt sent a stern warning to his rivals as he launched his Olympic season with a world-leading 9.82 seconds in the 100 metres at the JN Jamaica Invitational here Saturday night.
Running in his first race of perhaps his most important season ever, the Olympic sprint double champion easily sped away from his field at the National Stadium to reach the line ahead of fellow Jamaicans Michael Frater who finished second in 10 seconds and Lerone Clarke who was third in 10.03 seconds.
"It is a good start I would say. It (preparation) was better than last year so I am definitely happy with myself," Bolt told reporters afterward.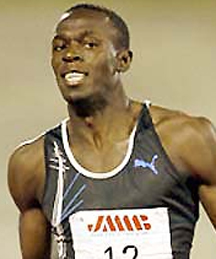 "I don't think the execution was perfect but I think for my first race it was good so I am happy with it."
He added: "I was trying to stay focused, a couple of false starts really threw me off but I was just trying to stay focused and went out there and executed as best as possible."
Bolt, the world record holder in both sprints, will now turn his attention to the Diamond League in Ostrava later this month.
Meanwhile, Antiguan Daniel Bailey finished fifth in 10.10 seconds while Trinidad and Tobago's Richard Thompson was sixth in 10.14 seconds.
World 100m champion Yohan Blake snatched a share of the headlines as he raced to 19.91 seconds to win the 200 metres.
Blake, whose showdown with Bolt at the London Olympics later this year will be one of the major drawing cards, finished ahead of fellow Jamaicans Nickel Ashmeade (20.09) and Warren Weir (20.21).
Another Jamaican, Novlene Williams-Mills, also produced a world-leading time in the women's 400m, clocking 49.99 seconds to beat former World champion American Sanya Richards-Ross into second.
Richard-Ross was timed at 50.11 while Great Britain's Christine Ohuruogu, the reigning Olympic champion finished third in 50.93.
It was a great night for two other Jamaican Olympic champions, Brigitte Foster-Hylton and Melaine Walker.
The 37-year-old Foster-Hylton clocked 12.51 to win the women's 100m hurdles while Walker clinched the 400m hurdles in 55.28.
World 100m champion American Carmelita Jeter maintained her dominance when she took that event in 10.81 seconds, with Trinidadian Kelly Baptiste second in 10.86 and Jamaican Kerron Stewart third in 10.98 seconds.
Around the Web