A steal was a the decisive manoeuvre when Charlestown Secondary defeated Queen's College 42-41 last Sunday evening at the Cliff Anderson Sports Hall (CASH) in the Youth Basketball Guyana (YBG) School's tournament.
Murtland Ward made the play of the night with  his Charlestown team down one point with 8.6s left to play before the final buzzer.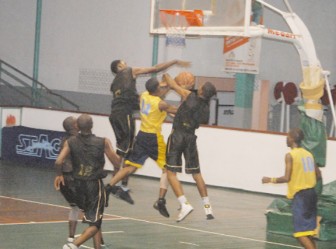 With QC in possession of the ball after it went out of bounds, they made a long inbound pass only to have it picked off by Ward who then took off on a fast break, graciously finishing with a 'Magic Johnson' type of finger roll to put Charlestown in command of the game by one point with just 2.1s remaining.
QC was unable to get down the court much less put up a hopeful attempt as they watched their 26-18 halftime lead mount for nothing in the game.
Ward ended with a double-double of 14 points and 10 rebounds while Colin McIntyre contributed 10 points and eight rebounds to the win.
Kareem Critchlow and Jonathan Pooran were the top scorers for QC with 12 and 10 points respectively in the dreadful loss.
Meanwhile, the University of Guyana (UG) held on to outlast the Guyana School of Agriculture (GSA) in a 44-43 points win.
UG bolted out of the blocks from the tip off. Their offence seemed organized and fluent as they passed the ball well, knocking down a high percentage of their shots from mid-range and in the paint.
At half time the score read 22-13 in the favour of UG mainly because of their stellar defensive effort.
Early into the second half UG kept firing away increasing their lead to 12 points.
But a timely timeout by GSA seemed to revitalized the agriculture students  who turned up their defence stopping  cold the UG  players in the post.
The remainder of GSA's offensive scheme was ignited by Quince Easton who took over the game scoring most of his points at the rim.
Though he ended with 27 points, his efforts came   a little too late.
Shaka Codrington, Clayton Reece and Boaz Wade scored  12, 11 and 12 points respectively for UG.
In the final game of the evening, Marian Academy trampled all over the Government Technical Institute (GTI) 59-30 for their third consecutive win.
Losing by no less than 100 points in all of their games, Marian easily disposed of GTI as their offensive and defensive systems were too much for GTI.
GTI played scrappy basketball which consisted of mainly isolation plays and second chance points while Marian's 2-3 zone defence along with their ability to score and rebound against bigger opponents were the deciding factors in the lopsided victory for the students in yellow and blue uniforms.
Dominic Vincente controlled the game with his leadership skills for Marian scoring 14 points while Marian's main scorer, Taquain Vieira, had another double-digit game with 16 points. He also grabbed eight rebounds.
Drexel Amsterdam finished with eight points and  13 rebounds for GTI.
Games in the Georgetown zone will continue  Sunday at the Cliff Anderson Sports Hall. The organizers are urging the public to come out and support the nation's future basketball stars.
Around the Web