By Iva Wharton
Twenty-nine karatekas have been shortlisted prepare for the upcoming International Karate Daigaku 2012 Shoto Camp and World Cup, scheduled for July 3-8 at the Ryerson University, Toronto, Canada.
So said Sensei Amir Khouri in an exclusive interview with Stabroek Sport recently.
According to Khouri, they are hoping to send a full team which would see Guyana represented in all categories.
"Kata, Kumite as well as team Kata and if possible team Kumite for the adults. There is also a senior division.
He added:"There is also new competition that has been introduced and that is Embo where the demonstration is done by a three-person team and that is going to be a first of its kind at this tournament. There is also the Bonkai which is the Kata application. Traditional Bonkai is the basic application of the Kata, so it's a first in many areas there, Khouri elaborated of the upcoming tournament.
Guyana, he said, will be represented by two organisations: The Guyana Karate College and the Association do Shotokan Karate of Guyana.
"So we hope to have good representation. Some of these members that we have here on the list they have one medal internationally. Some of them were champions at the 2010 ISKF Pan American Championship that was held here in August."
Khouri, however, said that Guyana's participation in all of the divisions will depend heavily on their ability to realize the funds and whether the athletes selected will be granted visas to travel.
"It cost approximately Guy $400,000 to send one athlete to this game, because the cost of the airfare is pretty high and you cannot buy a ticket now, you have to wait until you get a visa to by your ticket. So by the time we are ready to buy the ticket the price would have gone up by US$200 or US$300 more."
The associations, Khouri said, are in the process of applying for visas for all athletes and officials. "The larger team gives us a greater chance of bringing back more medals. And of recent we have been doing well on all these trips."
He also said that given the accomplishments of those selected, he is confident that Guyana karatekas can dominate at the tournament.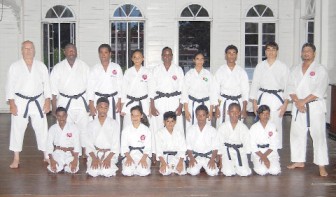 "I have high hopes for them because they are international medalists. Some of them are current titleholders for instance Christy Dey – triple gold medalist at the 2010 Pan American, Shane Rahaman and Samuel Ming. So most of our team members here are international medalists."
He said that while there are senior champions among the lot, it is the juniors who perform mainly because of a shortage of adults participating in the sport.
Sponsorship letters he said have been sent out to companies by the association and the parents to assist with financing. However, Khouri said that he preferred the association's financial officer to address matters of finance.
Some of the athletes told this newspaper that they are excited to have the opportunity to once again represent Guyana.
Roger Peroune, who is among those expected to travel, said that they are prepared for the championship.
"Most the persons who have been selected to compete have had a lot of experience, especially the junior members. Adult-wise we have a pretty new adult team but within the last two to three years we have had a lot of encounters with international tournaments, which has given us much needed experience," said Peroune.
Around the Web