It's just 31 days to go now before Guyana's Golden Jaguars kick off their opening third round match of 2014 World Cup Qualifiers against CONCACAF powerhouses Mexico on June 8th at the world famous Estadio Azteca (venue of the 1970 and 1986 FIFA World Cup finals).
Besides  the friendly international versus Guatemala at Providence on February 29th, which the first XI national side lost 2-1, mainly over the last few months the team under the guidance of coaches Jamaal Shabaaz and Wayne "Diggy" Dover continued its preparation via fixtures under the "Two-Tier" system, Caribbean tour. Under this system, local-based young players, who are not regulars in the starting XI, have been getting an opportunity to showcase their talents and push for promotion to the starting ranks.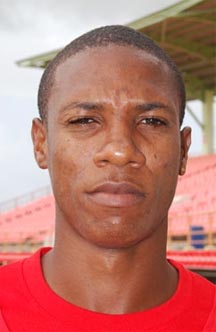 In February the team toured Trinidad and Tobago, St. Vincent and Grenada with mixed results. They lost to Tobago (1-2), the Trinidad & Tobago Under-23 (1-3) and St. Vincent (0-1) before triumphing in Grenada (2-1).
The developmental tours continued in March when the team toured Cayenne (French Guiana), where they lost the first game (0-1) before rebounding with a victory in the second game (2-0).
Recently when they visited French territories Martinique and Guadeloupe, who both have qualified for the last two Gold Cup tournaments, they drew 2-2 with Martinique and finished with a 2-1 win over Guadeloupe.
Although the emphasis was on youth, the player who stood out most prominently over the course of the  eight  games was a veteran –  Anthony Abrams – commonly referred to as "Awo".
The 32-year-old Alpha United striker was the only one of the Jaguars to "bulge the old onion bag" more than once, scoring against Tobago, Grenada and Martinique respectively.
Stabroek Sport spoke with Abrams at its  headquarters on Robb Street and he reflected on his performances to date this year for the national football team.
"I would say my form so far this year was due to hard work and training. Jamaal (Shabazz) and the rest of the coaching staff have been pushing us (the squad) to the limit of our potential and this intensity has aided me personally to have this good goal-scoring form during the Caribbean tour," Abrams said.
In addition to the pleasure of scoring, which is the ultimate aim any striker seeks first and foremost to accomplish when they step onto the field, Abrams also had the honour of captaining the Jaguars
during the clash versus Martinique and he was extremely pleased to have been given that opportunity.
"It was a privilege to lead Guyana without a doubt, one of best moments of my career," exclaimed Abrams in a gleeful tone.
He continued: "With so many young players around in the Martinique game, wearing the captain's armband I knew I had to lead from the front and I thought on the night the young guys really responded well. They gave a good account of themselves given how hard they fought and the team in the end secured a well earned draw."
In a brief moment of nostalgia, before looking ahead to the Mexico encounter, Abrams recalled his situation last year that caused him to be absent from Guyana's historic victory versus Trinidad last November. He was a regular member of the squad for the opening four qualifying matches versus Barbados and Bermuda, in which he along with national captain Chris Nurse  scored in Guyana's 2-0 win in Barbados on October 7th, 2011.
"I was injured playing a Super League game I think maybe 10 days before the Trinidad game. Unfortunately that is part of the job of being a football player, injuries can come anytime, but the staff always gave me confidence that I could come back soon. I was there to cheer the boys on and after the win. I went into dressing room and many of them said that along with the country, they brought it home for me as well, it was a great feeling," recounted Abrams. For the final 23-man squad, as per tradition with most international teams only four forwards are usually part of the squad.
Although the national side has four strong options in the recently recruited English-born striker Carl Cort, Gregory "Jackie Chan" Richardson in the North American Soccer League (NASL) with Puerto Rico Islanders, Vurlon Mills and Sheldon Holder in the Trinidad and Tobago pro-league (TTPL) with teams T&Tec and Caledonia – Abrams' form widens the options for national coach Shabazz to choose from. When asked given the options in front of him, how he rated his chances of being on the plane to Mexico, Abrams looked at it as a situation where the national team can utilize all these players including himself.
"Getting to Mexico would be a highlight for my career and I'm sure everyone else on the team. I played in a team early in my national career when we had Jackie Chan, Blackhead (Randolph Jerome), Nigel Codrington and Collie Hercules. We have a similar strike force now – so maybe the coaches could utilize us all," theorized Abrams who has had stints playing club football in Trinidad with Caledonia AIA and Suriname with Leo Victor.
He closed by giving some encouraging words to young aspiring football players in the country.
"However even if I don't make it or make it and play as just a substitute, I will still hype the Jaguars team, since it's the team that will win games for us – not any individual. I would also like to encourage young football players to stay focused because football in Guyana is bearing fruit. Coaches Shabazz and Dover are laying the foundations to make Guyana a force in Caribbean football."
Before the Mexico game, the main players in the Golden Jaguars will have a high profile friendly against Jamaica's "Reggae Boyz" on May 18th.
Around the Web