Acting General Secretary of the Caribbean Football Union Damien Highes says there has been no reduction to the suspension of former Guyana Football Federation president Colin Klass.
Klass was banned earlier this year for 26 months by the world governing body for football FIFA following a cash for votes scandal that also ensnared former FIFA vice presidents Mohammed Bin Hammam and Trinidad's Jack Warner.
Klass and other Caribbean officials were alleged to have accepted cash gifts of $40,000 (£24,500) per association according to an investigation conducted by FIFA.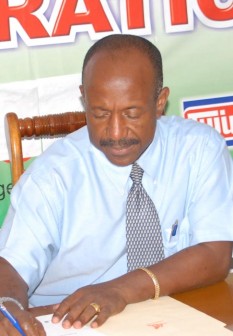 Recently, several callers to this newspaper had alleged that there had been a reduction in the suspension of the former CFU official Klass and asked this newspaper to verify if this was indeed the case.
"The Caribbean Football Union (CFU) is not aware of anything of this kind and are not aware of any further appeal of Mr. Klass' case.  The practice by FIFA thus far has been to notify CFU if there are any changes but CFU has not been sent anything in this regard of which the CFU is aware," Hughes wrote in response to a letter from Stabroek Sport.
Around the Web