By Emmerson Campbell
After Alonzo Greaves and his Roraima Bikers Club mate Warren '40' McKay won back-to-back warm-up events in the National Park last weekend ahead of the upcoming three-stage road race, they are now focused on taking their talents to the open road.
London Olympic hopeful Greaves, sped off with the 50-lap event on Saturday while on Sunday '40' sprinted his way to cop the 40-lap event.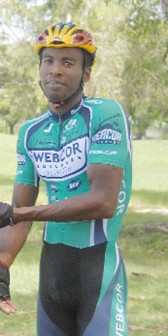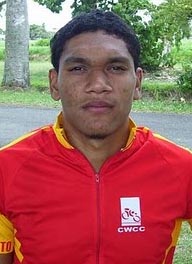 The duo along with club mates Albert Philander, Alex Mendes and Raymond 'Steely' Newton have their minds set on the 30th annual three-stage event which pedals off on Saturday in Berbice.
During an interview with Stabroek Sport yesterday McKay the 2010 winner and last year's first runner-up of the three-stage event exuded confidence heading into this weekend's three-stage road race. Said McKay: "Me and the guys will be going all out to win the three-stage. I had a chat with Alonzo today and we will be putting together a plan to bring this title back to Guyana."
Last year's winner was Yosmani Pol of Team Coco from Miami, Florida, who won the event in six hours, 39 minutes and 34 seconds.
McKay stated that the plan will be based on team CoCo which he said has been putting together a string of road race victories internationally. "Team CoCo is our main challengers, that team is our biggest competition, they have been winning a lot of races lately, but we are confident that once we stick to the game plan and ride as a unit we will be fine," McKay assured. Greaves the 2009 winner of the three-stage race  stated that he would not be settling for less than a top five overall finish and he is currently in intense training on and off his saddle to return to the form he had last year which enabled him to be considered for the Olympics.
The three-stage race which will cover a distance of 171.5 miles (274.3km) is organized by national cycling coach, Hassan Mohamed for the 46th Independence Anniversary celebration and is sponsored by the National Sports Commission.
The first stage will commence at 7:30hrs at the Corriverton Police Station and will finish at New Amsterdam. (46.6 Miles) (75km).
The second stage starts the same day at 14:00hrs from Rosignol and will proceed to Carifesta Avenue, Georgetown for the finish. (60.4 Miles) (97.1km).
The final stage of the event will start at 08:00hrs in Kara Kara, Linden and will conclude at Homestretch Avenue in Georgetown. (64.5 Miles) (103.3km).
Cyclists were  required to register their names with their respective clubs or team manager for submission not later than May 3 during normal working hours at the National Sports Commission Office, 91 Middle Street, South Cummingsburg.
Transportation will leave the National Sports Commission Office at 12:00hrs with cyclists and officials on Friday for Springlands, East Berbice.
Around the Web