(Cricinfo) Mitchell Starc, the Australia left-arm quick, will not be able to make his Yorkshire debut this week after being deported yesterday following a visa error that initially led to him being detained at Heathrow for more than four hours.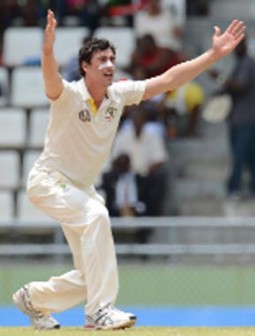 He will now have to fly halfway around the world, fill in a couple of forms correctly and then fly all the way back again.
Yesterday, Yorkshire were still hopeful of clearing up the situation but late in the afternoon Starc tweeted: "Well that's a first! Being deported from England.. Surely nothing else can go wrong can it?!?!" He expanded later: "Visa issue. Incorrect communication from aus. Will be straight back to UK ASAP once sorted
Yorkshire are blaming an incorrectly-completed visa form by Cricket Australia which has meant that Starc will now need to return home and re-enter England a second time although aims to be available for next week's match against Hampshire.
A Yorkshire statement said: "Following Mitchell Starc attending an appointment with the UK Border Agency this afternoon, he has been instructed to return to Australia in order to complete the necessary visa documentation. The problem was as a result of the incorrect advice given to him in Australia.
The necessary paperwork from Yorkshire County Cricket Club is in order and accepted by the UK Border Agency but unfortunately it is insufficient to allow Mitchell to fulfil the full visa requirement. We are hoping this matter can be resolved quickly in Australia and that he will return as soon as possible."
The latest visa delay – three West Indies cricketers have also been held up by visa issues ahead of their tour of England – brings into question whether UK visa policy is quick and flexible enough to deal with elite sportsmen and women who regularly come and go to the UK on profesisonal sports contracts.
Yorkshire's frustration follows their stand-off with their England pace bowler, Ajmal Shahzad, who has upped sticks to Lancashire after a long-running dispute over his reluctance to bowl in the approved style.
Around the Web