By Emmerson Campbell
Guyana's light heavyweight champion Kwesi 'Lightning Struck Assassin' Jones will defend his title against former WBC CABOFE light heavyweight champion, Trinidad and Tobago-based Guyanese Sean Corbin when the Guyana Boxing Board of Control (GBBC) stages its 23rd edition of its Pro Am card on June 1.
This was made official at the contract signing yesterday at the Abdool and Abdool building on the Avenue of the Republic.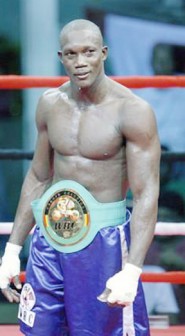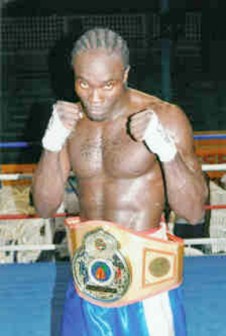 According to executives of the GBBC, the bout which is scheduled for the Cliff Anderson Sports Hall will headline the professional segment of the event which consists of four professional fights.
The undercard will feature Trinidad and Tobago-based Guyanese Iwan 'Pure Gold' Azore matching gloves with undefeated CABOFE junior welterweight champion Barbadian Miguel 'Hands of Stone' Antoine in a six-round junior welterweight contest.
Rudolph Fraser will face Cassius 'Classy' Matthews in a four-round lightweight encounter while James Walcott, a seasoned campaigner, will be up against young Kelsie George in a four-round grudge match. Walcott and George have thrown several verbal jabs at one other in the past and will have a chance to settle the score on June 1.
Corbin, 37, who has a record of 14 wins and three losses with 10 of his victories by knockout, will look to return to his winning ways against Jones after he suffered a fourth round TKO loss in his last fight in October 2010 against Dawid Kostecki of Poland.
The 27-year-old Jones, however, has his eyes set on the CABOFE light heavyweight title which is held by Trinidad and Tobago's Kirt 'The Technician' Sinette and will look to make a statement against Corbin.
Jones has a record of nine wins and two losses, with five of his victories ending within the distance.
During the contract signing, 'The Assassin' sent a stern warning to Corbin stating the he should come prepared or else he would be taken out.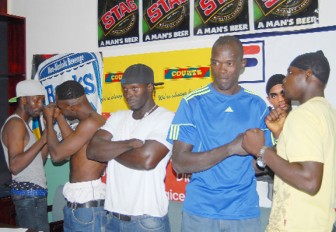 "Corbin better come prepared because I'm going to take him in the deep – he better come prepared because if he aint got the stamina for the late rounds I'm going to take him out let him know that," Jones boasted.
Corbin and the rest of the overseas-based boxers were not at the contract signing but they are scheduled to arrive in Guyana on or before May 29.
Azore, who is battle tested, has a record that reads 14 wins, five losses and three draws, and will look to use his experience to give Antoine (17 wins, no losses and one draw) his first defeat.
According to executives of the board, the card which is normally held on the last Friday in each month was pushed back because of Independence Day celebrations.
The names of the boxers who will make up the amateur segment of the card will be announced subsequently.
The monthly card is an initiative of the GBBC in collaboration with the Sports Ministry and the National Communications Network (NCN).
Sponsors of the event include Digicel, Giftland Office Max, Courts, Banks DIH Limited and ANSA McAL.
Admission is $1,000 while children will be asked to pay half price.  Bell time is 20:00 hrs.
Around the Web