So far this year the Golden Jaguars preparation for next month's historic World Cup Qualifiers versus Mexico and Costa Rica on June 8 and 12 respectively have been boosted by financial contributions from Giftland Office Max and Ansa Mcal Trading.
Food for the Poor (FFTP) Guyana Inc. is now the latest corporate entity to join forces with the Guyana Football Federation (GFF), though in a slightly different capacity.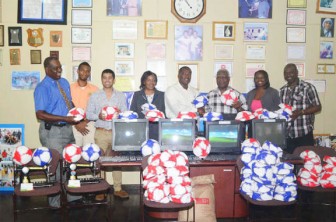 The GFF has commenced efforts to promote the development of football and mount life skills training throughout the length and breadth of Guyana. To support this initiative, Leon Davis, Chief Executive Officer (CEO) of the FFTP (Guyana) in North Ruimveldt, along with other company executives, met with acting GFF President Franklin Wilson  and his executives to make a donation which included 250 size five footballs, eight sewing machines, five sets of computer training equipment/kits and five bags of energy boosting food supplements.
"One of the missions of FFTP is to bring relief to the poor and elderly and in doing so we hope to empower them via housing, education, projects and sports. Over the last 21 years we have been indulging ourselves to improve the sports disciplines in any way we can assist in this country," Davis said.
The CEO elaborated by stating although they mainly deal with cricket, it was not due to any bias, but rather, because the organization was hoping that some representative from the football fraternity would one day engage them to form a partnership.
He concluded by expressing the hope that the partnership with the GFF would also aid in helping footballers to become well rounded individuals on and off the field.
Meanwhile, the acting GFF president, Wilson, assured the FFTP executives that the GFF was extremely serious about the alliance between the two entities and he underscored the GFF's aim of boosting the life skills development arm of the federation's youth policy.
He noted that for junior national teams, any player who was not in school will be eligible for national selection since the GFF believes education and sports must go hand-in-hand. In closing Wilson made special mention of the contributions of the Rose Hall Town Youth & Sports Club (RHTYSC) which about two weeks ago donated $400,000 worth in football equipment to the Berbice Football Association (BCA).
Around the Web