Junior player Khalif Gobin will next come up against the defending men's singles champion Anthony Downes after he held his own against veteran player Harry Panday in a men's singles match of the Guyana Bank for Trade and Industry Open competition last Friday at the GBTI Recreational Centre, Bel Air.
Gobin went down to Panday 4 – 6 in the first set, but managed to win the next two sets 6-1, 6-3.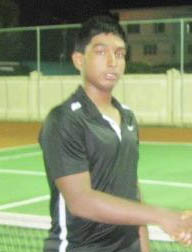 It will be Downes's first match in defence of the title he won last year by defeating then champion, Jeremy Miller in an intense battle that ended 7-6 (5)  4-6  6-3.
Miller has already indicated that he will be looking to reclaim the title he lost last year and he is aiming to reach the final but he has not yet played a match in the tournament which began last Thursday.
Meanwhile, veterans Rudy Grant and Gilbert Barckoy fared better against their fellow opponents. Grant succeed over his youthful opponent Kris Jugdeo, who retired due to an injury sustained whilst trailing Grant 6-4 5-4 while Barckoy had an easy time against Deochand Singh, defeating him 6-1 6-1.
Barckoy will come up against Bishan Dalip, who scored a 6-2 6-2 win on Friday against Judah Stepheney while Grant will play last year's boys' junior runner up, Gavin Lewis.
In the other match of the night Ronald Murray defeated Craig Campbell 6-4  6-2.
Matches will continue today with the men's doubles. At 5pm Godfrey Lowden/Sandeep Chand  will play Mario Niamatali/Anthony Ameerally while Nicholas Glasgow/Jason Glasgow will play Nicholas Fenty/Andre Erskine afterwards.
Mixed doubles action will also take place with Shawna Gentle/Gavin Lewis playing Aruna Ramrattan/Leyland Leacock  while in the Men's over 45 Singles Harry Panday  will play Rawle Sue-Ho  and Victor Dechanko will oppose Albert Madramootoo in an over 45 men's singles encounter.
Around the Web