United States of America-based Jamaica track and field coach Shaun Dietz says he wishes to denounce all the threats by unknown persons to three-time Olympian Aliann Pompey following the recent success of his athlete Kadecia Baird at the World Junior Championships last week in Barcelona Spain.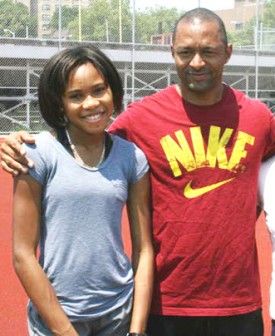 Baird's success may have prompted the view that she should have been selected instead of Pompey to represent Guyana at the London Olympic Games which starts in a few days time.
However, Baird had not been accredited by the Athletics Association of Guyana (AAG) so she would not have been able to attend regardless of her time.
Controversy arose after the 17-year-old US-based Guyanese track star started turning in remarkably fast performances, one an Olympic Games `B' qualifying time and later an Olympic games `A' standard which she clocked in winning a silver medal at the just concluded International Amateur Athletic Federation (IAAF) World Junior Championships.
Threats were reportedly issued by persons who are yet to be identified to Guyana's National 400m record holder Pompey who will be competing at her fourth Olympics Games in a few days. The contention of those issuing the threats was apparently that Baird should have been Guyana's choice to compete at the Olympic Games instead of Pompey.
However, Baird's coach Dietz made it clear that not only do they not condone any such threats against the Guyanese national 400m stateswoman but they never wanted Baird to go in Pompey's place.
"At no point we wanted Kadecia to go over Allian. Once it was clear that both athletes attained the `B' standard, what we tried for was for both athletes to go since the International Olympic Committee has provisions for that…Boyce said it was too late and we left it at that!" Dietz said.
Baird had attained the Olympic `B' standard at the 45th Glenn D.Loucks Games in May and then she bettered that with a blistering performance of 52.14s at the New Balance US High School National Championships in Greensboro, North Carolina.
Unknown to Baird's team and supporters at the time of her performances, was that her name was not submitted as part of the long list of Olympic prospects to gain accreditation. The deadline for submission of athletes to that long list was March, and since Baird's name was not on that list it made her chances of competing at the Olympics nearly impossible.
Nevertheless, Baird took her talents to the IAAF World Junior Championships, where stormed to a remarkable second place in a scorching personal record time 51.04s to accompany her silver medal. The time was an Olympic `A' qualifying standard but as mentioned above, her national fraternity did not accredit her from the onset. At that point, it was also past the final submissions for accredited athletes to achieve qualifying standards for the London Games.
Nevertheless, the astounding performance ignited a series of threats to Guyana's Commonwealth Gold and Silver medallist. Even though he is Jamaican, Dietz said that there was no prouder moment for him than seeing the Guyana flag raised at this year's World Championships. On this point, Dietz said that although they wished to separate themselves as far from the disgraceful behaviour of the persons issuing the treats, there was nothing else they can do.
Dietz remained puzzled by the unthinkable reaction of threatening an athlete that has been the flag bearer of Guyanese athletics for close to two decades.
"I really don't know what is going on with folks making threats to Aliann. However, anyone who uses the computer or phone can be easily be traced. All this fiasco we have no time with! We would love to denounce all the malicious behavior towards Pompey, but we can't control the public!" Dietz added.
This issue brings to the forefront the need for Guyana to have Olympic trials as is done in many other countries. However, the staging of such an event is very impractical since Guyana does not have a synthetic track or facilities to record electronically timed performances. Secondly, most of the athletes that are in range of qualifying for Olympic Games are overseas-based athletes.
The real issue that the controversy raised is the maladministration of the local track and field body which ought to have submitted Baird's name on the long list of athletes to become accredited. Baird had been on their radar ever since she visited Guyana last year to inform them of her progress and later competed at the World Youth Championships in France.
The same situation would have arose if say Wayne Harlequin or Phillip Drayton who reside in Trinidad and Tobago had suddenly clocked the 400m or 800m qualifying time. Then, Winston George's spot may have been questioned, but it was likely once again that the national track and field fraternity would not have submitted the names of these athletes as prospective qualifiers. Therefore if they had run the qualifying standard prior to the submission of the long list they would been left behind like Baird. The AAG had, in essence, been counting out athletes without giving them a fair chance to qualify.
Comments

The inaugural Magnum 'Tek Charge and Win', Futsal Christmas Classic was officially launched yesterday at the Windjammer International Hotel and Cuisine, Queen Street, Kitty.

TAROUBA, Trinidad, CMC – Guyana Jaguars captain Leon Johnson hit a sparkling, fifth first-class hundred to put the current leaders and reigning three-time champions into the early ascendancy against Trinidad & Tobago Red Force in the Regional 4-Day Championship on Thursday.

If you are a fan of chiseled physiques, then the place to be this evening is the Theatre Guild in Parade Street, Kingston.

Turfites get ready, the 'Sport of Kings' returns to the Alness Turf Club tomorrow for a grand one-day meeting.
The Playoff Round of the Guyana Amateur Basketball Federation (GABF) 2017 'Road to Mecca' tournament bounces off today at the Cliff Anderson Sports Hall, Homestretch Avenue.