Guyana's most recent record holder is ready to swoosh to another big mark. When Jeremy Bascom plants on the start line in today's heats in the Olympics' athletics segment, it's hard to imagine his gaze down the 100m track doesn't carry his thoughts back to an earlier time this summer.
The day was July 6 when he delivered a feat that changed his life forever. It was a national record-equalling flash in Nebraska at the US National Club Championships that tied the record of 10.19s set by James 'Wren' Gilkes, and stood for 34 years – older that the New York-based Bascom, himself.
"Well actually it's a great accomplishment for me to be able to tie that record on that day," the Linden-born, Georgetown-nurtured sprinter offered in an interview with Stabroek Sports the day he left New York for London.
"It was actually a bonus for me because I was just going there to perform to the best I can and win the club nationals so to improve my time so dramatically and to tie that record was so much a bonus, also."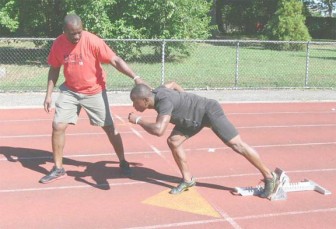 Gilkes, a world top-five ranked sprinter in his halcyon days in the mid-1970's, was yanked from the 1976 Montreal Games when Guyana joined a legion of apartheid-challenging nations in a boycott. Subsequently, he had advanced to the semis of the 100m and 200m dashes at the 1980 Moscow Olympics at the tail-end of his career.
The 28-year old Bascom feels he carries the 'specter of Gilkes' into London, and rues missing a pep-talk from the star of yesteryear. "Actually, I haven't got a chance to get in contact with Mr. Gilkes, but I would really, really, really love to meet him knowing that he has been the beacon for Guyana sprinting for so long."
Now, Bascom has the chance to premiere and then encore his performance in a sprint drama set to last for several rounds. He hopes his first run on the World's biggest stage has strides more rapid than his heartbeat, aiming for another record or podium-position maiden display. "All of the above I aim for," assured Bascom, a 2010 Commonwealth Games runner who also represented Guyana at regional senior meets in Sao Paulo, Brazil and Cali, Colombia in the past six years.
"The experience will be great, but getting there is not good enough for me I still got a lot of work to do and I want to do a lot more. I am going there and compete to the best of my abilities and am trusting in God that all goes well."
Bascom knows "it's a blessing" to have the source of his divine inspiration on his side, yet still aware that 'God helps those who help themselves'. He's convinced his preparations are archetypical for sowing  what he intends to reap.
"Well am feeling confident. I feel well prepared. My body feels well. Mentally and physically am there, so am expecting great things from myself. I am putting a lot of pressure on myself to perform well."
That day his training overseer indicated that those convictions are more than individually derived. "Overwhelmed!" exclaimed longtime track performer and exec, Andrew Harry when asked of Bascom's arduous trek to Olympic appearance, and his preparedness. "I know Jeremy had the desire for so many years and it's finally here, and I am glad to be here helping and witness him accomplish his dream, so am very excited for him."
The excitement over Bascom's emergence is shared by many who've tightened more than a spike in the short runner's cleats. "First of all God, because I think I find my strength in him, then others who have helped throughout my career to get me physically and mentally ready like my mom (Glyniss Fraser) who is very supportive through my ups and downs," Bascom noted adding that Harry and stalwart coach Kenrick Smith have been "tremendous". "Then there is my club, Central Park Track Club (CPTC), New Balance, my agent Desmond Martin for giving me the avenue to showcase my talent," he said in a show of perfect gratitude.
For Bascom, perfection means he needs to dance with the 'big boys'. A 'cool and deadly' move or 'passa-passa' or, better yet, a 'dip and go down' might be what takes him from his personal best (10.19s) to swagger in the sub-10 spotlight. With his steely nerves, he backs himself to pull off 'something magical' and seal his place in history, Olympic and or national.
"The road hasn't been easy for me, but I kept with it, I kept faith, I kept persevering, so I just want others to do the same thing and not give up," said the former Long Island University track standout.
"You never know when is your day. Any given day could be the perfect race or the perfect chance for you to get to that next level, so I just want everyone overseas and in Guyana to keep training hard, stay focused, have faith and take negative and positive criticism as fuel to burn your fire, to burn your desire to represent Guyana to the world."
Around the Web