GEORGETOWN, Guyana, CMC-The striker who squandered a penalty that cost Guyana their world cup qualifier against El Salvador last week says he would not shy away from a chance to shoot from that spot again.
Carl Cort's feeble penalty was saved by Dagoberto Portillo allowing Guyana to suffer a 3-2 defeat at the hands of El Salvador at the national stadium.
The Golden Jaguars came back twice to draw with El Salvador  when the two teams met in the first leg  in San Salvador a few days earlier.
"I can tell you though if the situation came about again I wouldn't shy away from it" said Cort in an interview at his Florida based, North American Soccer League (NASL) Club, Tampa Bay Rowdies.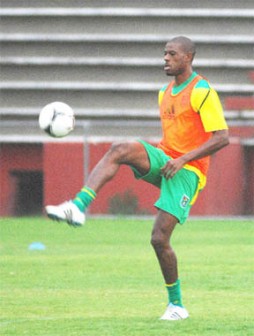 "I wish I could go back in time and retake the penalty but that just isn't going to happen. There's several moments in every athletes career where a situations arises like that, sometimes you succeed sometimes you don't".
Guyana's chances of advancing further into the FIFA 2014 World Cup suffered a crushing blow as a result of their loss to the Salvadorans.
Cort was the play maker for Guyana's two goals with his through ball that allowed Gregory Richardson to open the scoring and later his deflected header to Chris Nurse leading to an equalizer.
"For me personally missing the penalty doesn't take away the way I felt about my performance. I wouldn't say the two assists gave me consolation for the penalty miss. I just see it as three separate major moments of the match" said the experienced 34-year front man who has played in the English Premier League and the England Under 21s in a career that started in 1996.
"It's funny because the way some of the public look at it is in black and white. If I scored the penalty I walk off that field a hero. Even with 2 assists and a good performance because I missed the penalty I am now a villain".
Guyana, currently third in group B standings, need to beat Mexico on October 12th to keep their chances alive.