World Wrestling Entertainment (WWE) superstar Ezekiel Jackson arrives in Guyana today for his first visit to his birthplace since achieving worldwide fame.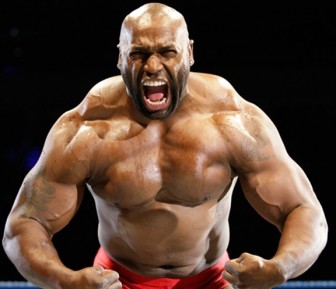 The WWE sensation soared to superstardom in the wrestling fraternity, impressing fans the world over with his signature moves and stealth-like physique. International Boxing Promoter Carwyn Holland touted the arrival of Jackson as a major achievement for Guyana, since Jackson, a son of Guyana's soil has risen in the hierarchy of international professional athletes while remaining true to his Guyanese heritage. Jackson's arrival will afford the Guyanese public an opportunity to interact with a renowned wrestler honed from our Guyanese shores.
Born Rycklon Stevens in the mining town of Linden on April 22, 1978, Ezekiel Jackson migrated to the United States in his youth and soared to be one of the most fearsome WWE superstars, battling with the likes of Triple H, Big Show, The Great Khali and others.
Before migrating to the United States, Jackson resided in Victory Valley- Linden, Region Ten and attended St. Aidans Primary School in Wismar- Linden. In March 2007 Jackson signed a developmental contract with World Wrestling Entertainment and debuted in Florida Championship Wrestling (FCW) in late June. In his debut match Jackson teamed with Keith Walker to defeat Kofi Kingston and Eric Pérez. He continued to compete in both tag team and singles matches. Soon enough, in May 2008, Stephens wrestled his final match in FCW and was called up to WWE's main roster.
Jackson debuted in July 2008 on SmackDown under the name Ezekiel Jackson, and he was revealed as being Kendrick's "advisor". He then began interfering in Kendrick's matches against Jeff Hardy, Finlay, and WWE Champion Triple H. Jackson then made his official in-ring debut by quickly defeating Super Crazy.
When drafted to The Ruthless Roundtable and ECW Champion (2009–2010), Jackson defeated Jack Meridol. Jackson won the ECW Homecoming battle royal to earn a match for the ECW Championship. He faced Christian for the ECW championship at the Royal Rumble pay-per-view but was unsuccessful. Undeterred, Jackson defeated Christian to win the ECW Championship in an Extreme Rules match on the final episode of ECW. Upon winning the title, the WWE credited Jackson as the final ECW Champion. Later in June, at the Capitol Punishment pay-per-view, Jackson defeated Barrett to win the Intercontinental Championship. Jackson retained the championship in a rematch against Barrett on the following episode of SmackDown and also successfully defended it against Ted DiBiase. Jackson has clashed and defeated the likes of The Colóns, Zack Ryder, the Big Show and other stellar WWE stars.
In 2010 in Glasgow, Scotland, Jackson suffered a tear in his right quadriceps muscle during a match against Kane, and was expected to be inactive for approximately six months. During his injury, Jackson was drafted to the Raw brand as part of the 2010 WWE Supplemental Draft.
Jackson has become feared for his 'Standing side slam', 'Chokeslam', 'Torture Rack', 'Backbreaker rack', 'Lariat', 'Multiple scoop slams' and 'shoulder block'- all signature moves of this consummate athlete. Apart from his wrestling title 'Ezekiel Jackson', he is also referred to as "The Guyanese Goliath" and "(Big) Zeke".
Holland's Entertainment Promotions in partnership with the Guyana Tourism Authority hails Jackson's return as a significant stride to promote Guyana internationally via sports tourism.
Jackson is expected to visit his hometown on Tuesday September 25th and will be paraded around Georgetown in a motorcade on arrival. He is also expected to visit city schools, the Georgetown Public Hospital, and will feature at the Guyexpo slated to begin October 27th.
His arrival in Guyana was made possible through the generosity of Banks DIH, EzJet Airlines, Princess Hotel Guyana, Mohamed's Enterprise, Evergreen Adventures Inc, Impressions, Universal Travel, Standard Distributors, Guyana Beverage Inc., Mr. Aubrey Major aka 'Shaghai',  and Ray's Motor Spares.
Around the Web