NBS second division competition…
By Neil Barry Jr.,
The University of Guyana closed their campaign in the Georgetown Cricket Association (GCA) New Building Society (NBS) limited overs competition in style on Sunday when they dispatched Ace Warriors at the Malteenoes Sports Club ground, Thomas Lands.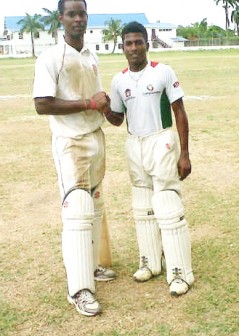 The 10-man Ace Warriors side batted first and lost wickets at regular intervals until their innings was completed at 9 for 129 after a mere 24 overs. Their only resistance came from Randy Blair who scored 54 with three sixes and two fours while the next highest contribution in the Ace Warrior innings was the 37 yielded by extras. Damian Vantull was the pick of the bowlers with 4 for 35 from eight overs while Dennis Heywood collected 3 for 44.Wicketkeeper Clevon Hyman enjoyed a good day behind the stump with six dismissals. The University of Guyana (UG) openers raced to the target in 17 overs. Dwayne Dodson and Nicholas Carryl hit 60 and 30 runs respectively to ensure Ace Warriors finished the tournament winless. The bowler's didn't do much to aid their cause as they conceded a further 32 extras. The semi finals of the competition will be played next weekend with Police playing the Georgetown Cricket Club (GCC) and Demerara Cricket Club (DCC) acing Everest.
Comments

The inaugural Magnum 'Tek Charge and Win', Futsal Christmas Classic was officially launched yesterday at the Windjammer International Hotel and Cuisine, Queen Street, Kitty.

TAROUBA, Trinidad, CMC – Guyana Jaguars captain Leon Johnson hit a sparkling, fifth first-class hundred to put the current leaders and reigning three-time champions into the early ascendancy against Trinidad & Tobago Red Force in the Regional 4-Day Championship on Thursday.

If you are a fan of chiseled physiques, then the place to be this evening is the Theatre Guild in Parade Street, Kingston.

Turfites get ready, the 'Sport of Kings' returns to the Alness Turf Club tomorrow for a grand one-day meeting.
The Playoff Round of the Guyana Amateur Basketball Federation (GABF) 2017 'Road to Mecca' tournament bounces off today at the Cliff Anderson Sports Hall, Homestretch Avenue.