Three overseas-based shooters – experienced rifleman Canada-based Paul Archer, a former national captain, United States based John Fraser and Sigmund Douglas have been named in the squad to be captained by local "top local marksman " Mahendra Persaud.
The other members of the squad are Dylan Fields (vice-captain), former Caribbean individual champion Ransford Goodluck, Lennox Braithwaite, Richard Fields, Claude Duguid, ACP retired Paul Slowe, Ryan Sampson, Lt. Col. Terrence Stuart, Peter Persaud and Charles Deane.
The tournament fires off on Tuesday with the individual competition with Guyana's President Donald Ramotar who is also patron of the Guyana National Rifle Association (GNRA) being invited to fire the first shot.
GNRA President Commodore Gary Best, Chief of Staff of the Guyana Defence Force is expected to accompany the Guyanese head of state  for the symbolic opening ceremony  at 09:00 hours as six regional teams Antigua/Barbuda, Barbados, Bermuda, Jamaica, Trinidad and Tobago and host Guyana compete for regional supremacy in short range and long range shooting competition.
Jamaica are the reigning short range champions  that will be over 300, 500 and 600 yards ranges while Guyana hold the long range title over 900 and 1000 yards.
Jamaica's line up will include Jose Nunez, David Rickman, Denis Lee, Wayne McNair, Aubrey Yee Sang and John Nelson.
Trinidad and Tobago will be led by their veteran shooter Norris Gomez and will include Carl Awong, David Rajnauth, Justin Lall, Mark Ackrill, Steven Chung, John Fong Yew, Oscar Waldron and John Soanes.
Barbados's squad will include Marlon King, Louis King, Richard Arthur, Ryan Williams, Captain Willoughby King, Inspector Ashford Jones and Donavan Baker.
Bermuda will have in their squad Sinclair Rayner, Carl Reid, Roderick Butterfield, Wilbur Lightbourne, Norman Pogson and David Dumont.
Antigua/Barbuda squad will include Ivor Gomes, Christopher Joseph, Thomas Greenaway, Anderson Perry, Oslon Daniel and Rohit Dukhiram.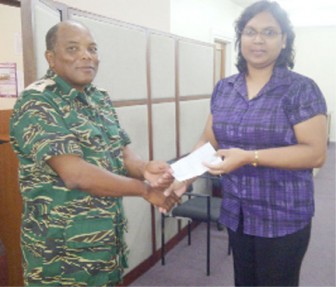 Local beverage company Banks DIH will host the shooters on Monday evening at a Reception  at Thirst Park.
The individual competition starts on Tuesday and runs to Thursday. Friday is a Rest Day while Saturday and Sunday are set aside for the two team matches.
The Milex Cup, symbol of short range supremacy will be contested on Saturday while the long range match will take place the following day.
The Presentation of prizes will be held at GDF officers Mess on Sunday evening.
Meanwhile, Sterling Products Ltd., one of the major sponsors presented a cheque to the GNRA Friday.
Treasurer of the GNRA Lt. Col. Terrence Stuart received the cheque from Rita Beharry, Sales and Marketing Assistant during a simple ceremony at Sterling's head office at Providence, East Bank Demerara.
Comments

Floodlight Masters Sunday warmed up for the upcoming seventh annual Guyana Softball Cup tournament by winning Sunday's four-team Jai Hind Cricket Club fund-raising softball tournament in Berbice.

BULAWAYO, Zimbabwe, CMC – Kieran Powell and Kyle Hope got into gear with half-centuries, as West Indies had to settle for a draw with Zimbabwe "A" in their three-day, tour match yesterday.

It was a disappointing day for team Guyana as the 2017 Indoor Pan American Cup continued yesterday at the Cliff Anderson Sports Hall (CASH).

Gold is Money will oppose Future Stars in the inaugural Street Vibes Entertainment Futsal Championship grand finale today following semi-final wins over Sparta Boss and Back Circle respectively on Monday.

Santos hammered Northern Rangers 3-0, when the Georgetown Football Association (GFA), 2017/2018 Premier League continued on Monday at the Georgetown Football Club (GFC) ground, Bourda.