By Iva Wharton
Barring any upsets Bishops' High School (BHS) and Queen's College (QC) table tennis teams are set for a second showdown when the Guyana Table Tennis Association (GTTA) and Digicel annual Schools tournament concludes at the National Gymnasium.
The two teams are through to the semi-finals of the 15-years-and-under category with BHS down to oppose New Amsterdam Multilateral while Queen's College will play Bartica Secondary `A'.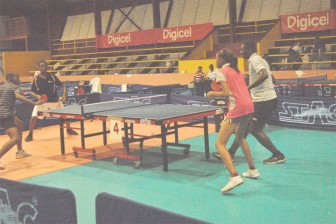 The Bishops' High School team will be spearheaded by former Caribbean Under-13 girls' champion Chelsea Edghill and former Caribbean Under-13 boys silver medalist Jamaal Duff while Queen's College will depend heavily on southpaw Shemar Britton and Ryan `Smurf' Narine.
Bishops' High and Queen's College met once before in the final of the 18-years-and-under category with Bishops' prevailing 3-2.
Queen's College's Britton won both of his singles matches against Caribbean Under-15 number two female player Edghill and Denzel Duff but Bishops' prevailed when Duff and Edghill won one singles match each, then teamed up to win the crucial doubles encounter.
In the third place play-off St Joseph's `A' team of Kevon Corbin, Kareem Mackenzie and Matthew Brandon gained a walk over from Mae's `A' team of Stefan Corlette, Miguel Wong and Jeremy Singh.
Also completed were the 13-years-and-under and the 11-years-and-under finals.
The 13-years-and-under final went down to the wire before the Marian Academy duo of Priscilla Greaves and Kristie Lopes prevailed 3-2 over the North Georgetown duo of Tyriq Saunders and Neveah Clarkston while the Mae's 11-years-and-under team of  Jeremy Singh, Niron Bissu and Kaysan Ninvalle defeated North Georgetown's Saunders and Clarkston 3-2.
Meanwhile, assistant secretary/treasurer of the GTTA Linden Johnson said that the number of out-of-town schools and the performances witnessed augurs well for the sport.
He, however, said that he was disappointed that no teams from the mining town of Linden competed this year.
He said he had received a commitment that three teams from Linden would have been participating in the competition but said he did not know if the recent unrest had anything to do with the teams not participating.
Johnson added that he was especially pleased with the performance of Marian Academy, the only school which sent an all-girls team to the tournament. There was no participation from St. Rose's and one team from St. Stanislaus College which he said was regrettable.
Some 19 schools are participating in the tournament with new entries coming from Charlestown, Annandale and North Georgetown Secondary Schools.
Last year 17 schools participated in the tournament.
Johnson said invitations were sent out to quite a few schools, but the organizers never expected to receive so many entries.
Around the Web