LONDON, CMC – Controversial England-based striker Marlon King has resigned from international football dashing any hopes he could aid Jamaica's bid to qualify for the 2014 FIFA World Cup in Brazil.
King's resignation greeted a high powered Jamaica football delegation on a visit to England to recruit players for next year's CONCACAF finals.
His return was expected to be a major focus of the Jamaica Football Federation (JFF) visiting delegation consisting of President Captain Horace Burrell, head coach Theodore Whitmore and his assistant Alfredo Montesso.
"It is with the deepest regret that I Marlon King have today decided to retire myself from international football," read a statement from King's agent Tony Finnigan.
"I would also like to thank the Jamaican public and my fans for their support and wish the squad the very best in achieving World Cup qualification."
The striker made his first appearance for Jamaica in 2004 and went on to score 12 goals in national colours.
However he has not been called up to the Jamaica squad since his two-match ban for allegedly breaking a curfew while on national duty in Panama in early June.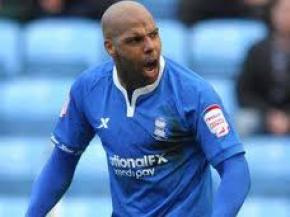 Recently, he scored a hat-trick inside 19 minutes, to power his English Championship team Birmingham to a sensational come back against Millwall who was leading 0-3.
But Whitmore and Montesso have both publicly dismissed King's value to the team.
"I have always given my all to the Jamaican football team and have some very fond memories of my achievements within the squad," the statement said.
"I would like to take this opportunity to thank Captain Burrell and Carl Brown for their outstanding support during my time with the JFF. They will always have my complete respect".
King has had 14 separate convictions ranging from drunk driving to assault- an offence that landed him an 18-month jail sentence in 2008.
He also received an 18-month sentence in 2002 for receiving stolen goods.
Around the Web