By Iva Wharton
Tucville, Marian Academy, West Ruimveldt and North Georgetown will contest the semi-finals of the Courts-sponsored Primary Schools football competition next Saturday at the Banks DIH Limited ground, Thirst Park.
The four teams emerged victorious following the quarter-finals played yesterday at the same venue. Tucville, despite maintaining its winning streak did not do so without problems. A last minute change of the goalkeeper was protested by Redeemer's Coach Johnny 'Overseas' Barnwell who said he not notified of the change.
According to Barnwell, he did not have a problem with the change per se but added that the referees had the right to notify him of the change.
Redeemer went down to Tucville 2-0 in the penalty shoot-out after the teams had battled to a 1-1 draw after regulation and extra time.
Tucville's Teacher/Coach Ryan Belgrave, while he is happy that his team won, they could have done a better job had they not underestimated Redeemer.  Deandre Linton and Tucville's Simeon Hackett were the goal scorers.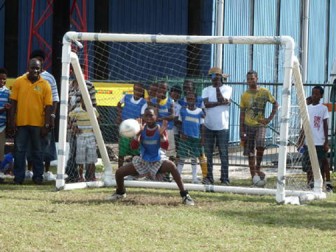 In the other matches, Marian Academy edged out St. Margret's 1-0 with Diarra Thomas netting in the ninth minute.
West Ruimveldt secured a 2-1 victory over Ketley Primary with Anton Porter and Victor Brown  netting for West Ruimveldt in the 19th and 21st minutes while Jahima Massiah scored the lone goal for Ketley Primary in the 17th minute.
North Georgetown booked its place in the last four with a 5-0 whipping
Of St Gabriel's. Tyrese Prescott netted a double in the 18th and 29th minutes while Laman Lord, Tyriq Saunders and Joshua Denny scored in the 14th, 31st and 35th minutes respectively.
In the remaining four matches, St. Pius defeated Success 5-0 with Marcus Wilson netting a hat trick in the first, 16th and 25th minutes while  Bevney McGarrell in the 23rd and Shemar Horsham  in the 33rd minute were the other goal scorers.
Enterprise secured a walk over Green Acres who failed to put in an appearance while James Freeman of Sophia Primary scored a helmet trick  in the sixth, 10th, 21st and 34th minutes as his team defeated South Ruimveldt whose two goals were scored by Owen Archer in the 29th and 30 minutes.
F.E. Pollard defeated St. Sidwell's by a 4-0 margin with Lauder Thomas scoring a hat-trick in the fifth, 10th and 17th minutes while Meshack Softleigh put the icing on the cake in the 19th minute.
Comments

Guyana Amazon Warriors left a packed house heartbroken after folding to the Jamaican Tallawahs by two runs in a thrilling final over, as they began their home leg of this year's Caribbean Premier league (CPL) with a school boyish display, last evening at the Guyana National Stadium, Providence.

DUBAI, England, CMC – Reigning champions West Indies Under-19s will be part of history, when they kick off their title defence of the ICC Youth World Cup (YWC) against hosts New Zealand Under-19s.

Guyana ended their Group-F campaign in the CONCACAF Boys U15 Championship on a winning note, edging St.

BIRMINGHAM, England, CMC – A day that started brightly ended in typical uncertainty for West Indies, after Alastair Cook and Joe Root plundered hundreds to give England an early hold on the historic first Test on Thursday.
BASSETERRE, St. Kitts, CMC – A strong all-round performance from Javeor Royal propelled Jamaica Under-19s to a four-wicket victory over ICC Americas Under-19s in the Regional One-day youth tournament on Thursday.