By Iva Wharton
Alpha United president Odinga Lumumba said yesterday that he plans to launch a petition as early as next week calling for the intervention of a third party to bring an end to the current impasse between the Guyana Football Federation (GFF) and the Georgetown Football Association (GFA).
"I am appealing to both sides the administration of the GFF and the administration of the GFA to take bold steps to bring the unification of football to an end, if not the game will further erode," Lumumba said yesterday at a press conference at the Waterchris Hotel.
"You have hundreds of young kids who can turn to football to change their lives, moving away from crime and formalize some kind of discipline in the way they view their lives and the world," Lumumba added.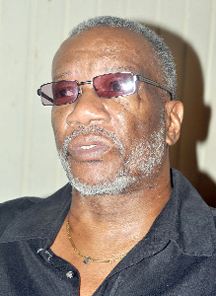 The Alpha Untied President said the blame should not only be cast at the feet of the GFF and the GFA, but the football fraternity of which he is a part of.
According to him if persons feel the need to retain the old leadership it is their democratic right but there needs to be some form of reconciliation between the GFA and the GFF.
"One can only feel that if we were unified and the direction of football was positive we probably would have done better in the World Cup but lack of resources, support have caused Guyana's team to be weak and unproductive."
He said his club was still affiliated to the GFF.
"As you know we pulled out of the GFA because we felt and I still feel that the GFA should have been bold enough to accept a resolution on this matter. But we stand on the side of the GFF; we stand on the side of football not only the GFF but on football."
Lumumba said since the two sides have been unable to come to a compromise he will be starting a petition drive next week to try and bring about some form of solution.
"If these two parties can't resolve it then the only solution is to form another GFF that will encompass everybody. At some point we have to do that if these two parties can't rectify the situation then the only solution is a third party involvement. Maybe people who are friendly to football could come together and form an organization and ask FIFA for recognition. We have to force these two parties to come together."
He identified President of the Guyana Olympic Association (GOA) K.A Juman Yassin and its General Secretary Ivor O'Brian as persons who can be approached to play a role in bringing about a resolution.
"We are once again faced with this dilemma. At the end of December we have the Kashif and Shanghai tournament and the GFA tournament and again there is massive disagreement and massive division and we have to figure a way to get out of this and I have to blame the administration on both sides for being unable to resolve what I perceive to be a very simple issue which has become complex."
Lumumba argued that the GFA should withdraw the court case under the conditions that were agreed to with the GFF
.
"But the GFA will keep its administration intact and the GFF will ensure that all associations including the GFA hold their annual election and after they have done that then there should be national election so that we can select new leadership for the GFF," he articulated.
Lumumba said he will try to organize a meeting with the two sides to initiate a solution.
"Right now football is weak, it lacks leadership, administration, and there is no money in football. No money because nobody wants to put any money into football. People don't put money into things that are disruptive or disorganized," he declared.
Comments

A resurgent Guyana Amazon Warriors side completed a comprehensive seven wickets victory over the out-of-sorts St Lucia Stars to cruise to their second consecutive home win in the Caribbean Premier League (CPL) at the Guyana National Stadium, Providence, last evening.

BARCELONA,  (Reuters) – Barcelona are suing Neymar for 8.5 million euros ($10.00 million) for breach of contract as they want him to return the bonus he was paid when he signed a new five-year deal just nine months before joining Paris St Germain, the Spanish club said yesterday.
(Reuters) – Cristiano Ronaldo will have to serve his five-match ban for pushing a referee after the Spanish sports court (TAD) rejected Real Madrid's appeal against the length of the suspension, Spanish media reported yesterday citing court officials.

A 90th+3 minute strike secured Western Tigers a 1-1 draw with Georgetown Football Club (GFC), when the Corona Beer Invitational Football Championship continued on Monday at the GFC ground, Bourda.

Despite concluding the CONCACAF u15 Boys Championship with only one victory from four matches, Guyana Football Federation (GFF) President Wayne Forde said, he is delighted with the team's overall performance.